Home > Acumen > EON Basix
Acumen Eon Basix Heart Rate Monitor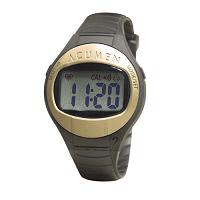 Acumen Eon Basix heart rate monitor is a simple basic heart rate monitor for general use and fitness training.

Here are its main features:
Continuous heart rate monitoring
Two ways to set the upper and lower limits of your heart rate training zone: manually and automatically. When set automatically, it uses your age to calculate the zone limits.
Audio alarm and visual indicator when you train outside your training zone
Calories consumption with Exercise Factor
In-zone count down timer: If you want to train in your heart rate zone for (at least) a particular length of time, you can set this timer. It beeps when you have done that.
Basic time keeping: You can set time and alarm but you can't set date
Wireless heart rate monitor with a chest strap transmitter and a wrist watch receiver
It is unusual for a heart rate monitor of this price range to have a calorie counter. However in order to use the calorie counter properly, you have to manually set an Exercise Factor. This factor takes into account that different types of workouts at different intensities produce different rates of calorie consumption. The Eon Basix uses this factor to adjust the calculation of your calorie consumption during a specific workout. The user manual supplied has a table which allows you to look up the Exercise Factor for various types of sporting activities.
Let me give an example. If you are planning to do an aerobic exercise session at high intensity, first find the entry aerobics at high intensity in the table. The number 9 appears. You input this number into your heart rate monitor before you begin your workout. When you are done with the workout, the Eon Basix tells you about your calorie consumption, having adjusted it with your exercise factor.
The features of the Eon Basix monitor are roughly comparable to the Polar FS3.
However, the Eon Basix does not have these fairly common features:
Duration, average heart rate, maximum heart rate of exercise session
Backlight
Note: The Acumen Eon Basix ES and Eon Basix ES-WP heart rate monitors are basically the same as the Acumen Eon Basix in terms of functionality. Both variants have smaller wrist watch and transmitter belt. The wrist watch of the Eon Basix ES-WP can come in different colours.
Other issues
Based on customer reviews found on the net, there can be some quality and durability issues with this heart rate monitor. Some users are very happy with it. Some not quite so happy. So do look up the reviews on Amazon.
Summary
The Eon Basix is a basic monitor with useful features like calorie consumption at a low price. However, because of the above-mentioned quality and durability issues, it can be a matter of chance whether the one that you buy will last for a long time (or not). It is however quite easy to operate and relatively cheap.
Useful Information
Reviews: This page has a concise summary of Acumen heart rate monitor reviews.
Further information: Visit Acumen's official web site.

Next up in the Acumen line up is the Acumen EON Basix Plus heart rate monitor.

Not sure which heart rate monitor is right for you? Take a look at the Which Heart Rate Monitor page.






---
Copyright 2007-2011 Heart-rate-monitor-watches.com
---