Home > Which Heart Rate Monitor > GPS Heart Rate Monitor
GPS Heart Rate Monitor
Looking to get a GPS heart rate monitor but bewildered by the choices? On this page you will find a selection of the most common GPS HRM models to help you make the choice. At the very bottom of the page you will find the GPS heart rate monitor that we think is the best buy for the average GPS HRM user, based on features, price, quality and positive user experience.
First a little background. GPS heart rate monitors makes use of satellite technology to provide useful training data like speed, distance, and sometimes also route/tracking information. Note that these watches do not all offer the same set of GPS features. Some GPS running watches simply provide speed and distance information, some have tracking and mapping, and some even provide additional navigational abilities as well. Here we will look at models from the 3 main brands for GPS heart rate monitors: Garmin, Polar and Suunto.
First, let us look at Garmin, which currently has the most comprehensive offerings of GPS heart rate monitors, given its roots in various GPS products such as in-car satellite navigation systems. In addition, Garmin provides a comprehensive website called Garmin Connect for mapping and detailed analysis of training info.

Starting from the simplest, there are the Garmin Forerunner 110 and Garmin Forerunner 210. These offer simple speed and distance information. Route traveled can only be viewed after the run, when data stored in the GPS watch gets uploaded to the Garmin Connect web site. We have found that users like these models because of its ease of use, lack of complicated controls and menus, and clear numeric display. This user gives a very useful summary about the strength of the Forerunner 110 model.


Next we have the Garmin Forerunner 305. It is one of the best selling heart rate monitors (GPS and non-GPS included) with many great features, both GPS-related and heart rate monitoring-related, at a price that provides excellent value for money. In addition to speed and distance, this GPS watch for runners provides speed alerts, distance alerts, virtual partner (which you compete against), viewing your path on the watch, marking locations, using routes, and other navigation features. It has amassed over 2000 user reviews on Amazon, and it is one of the top sellers there. In our opinion it has packed a lot of features for its asking price and we are not surprised why it sells so well. Next, we come to the Garmin Forerunner 310XT. The Garmin Forerunner 310XT has about the same features as the Forerunner 305, the main difference being that the 310XT is now swim-proof. So at last there is a GPS running watch for swimmers.


The Garmin Forerunner 405 makes use of a Touch Bezel instead of button presses for you to operate the watch. It also has a smaller and sleeker shape, considerably less bulky than the Forerunner 305. In terms of features it is about the same as the Forerunner 305, with the Forerunner 405 using more advanced technologies underneath e.g. the wireless transfer of data between the computer and the watch via the use of a USB ANT stick. The Garmin Forerunner 405CX uses heart rate to more accurately calculate calorie consumption, but is otherwise the same as Forerunner 405. The Garmin Forerunner 410 improves upon the Forerunner 405CX with regard to the Touch Bezel, calorie calculation and the chest belt. You can effectively regard the 405, 405CX and 410 models as essentially the same with the 410 model being the latest and most up-to-date.


The Garmin Forerunner 605 is an advanced GPS heart rate monitor from Garmin. It offers most of the features found in the preceding Garmin models, plus it uses a Touchscreen interface, gives you the option to choose the rate of data recording and calculates Training Effect. The Touchscreen interface makes it intuitive for you to navigate to the setting and feature that you want. Training Effect is a metric measuring how your training is affecting your fitness. This relatively new GPS heart rate monitor is becoming quite popular. It has over a short period time collected a large number of good user reviews. So be sure to check it out.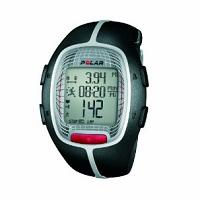 Now let us look at the Polar offerings. Polar offers a basic GPS unit, the G1 GPS sensor. It is an optional accessory and works with Polar FT60 and Polar FT80, which are primarily fitness heart rate monitors. The G1 GPS sensor provides simple outdoor speed and distance measurements but does not provide any navigation functionalities and there is no mapping or routing information. The other heart rate monitor that can use the G1 GPS sensor is the Polar RS300X, an intermediate running heart rate monitor. On the Polar RS300X G1 (which includes the G1 GPS sensor), speed and distance information is provided, and speed/pace training limits can be set. However, there are a number of user reviews that show that the G1 GPS sensor has some issues with regard to the accuracy/consistency of distance measurement, the satellite pick up and the short battery life.


Polar has a more advanced GPS unit, the G3 GPS sensor. The G3 can provide mapping/tracking functionality on the supplied PC software, so that you can see your routes after the exercise. The G3 GPS sensor is included in Polar RS800CX MULTI running heart rate monitor. The G3 GPS sensor is an optional accessory for the Polar CS600X cycling heart rate monitor.
Lastly we look at what Suunto has to offer. Suunto provides a GPS pod available as an optional accessory. It is compatible with Suunto T3, Suunto T4 and Suunto T6 heart rate monitors. The Suunto GPS pod provides speed and distance information only and it has received mixed user reviews on Amazon.
Recommended GPS Heart Rate Monitor

On balance, having looked at models from Garmin, Polar and Suunto, we feel that with regard to GPS accuracy and features, Garmin comes up top among the three brands. Of the various Garmin models, the Garmin Forerunner 305 probably provides the best deal of all. It has a large number of features and is offered for sale at a heavy discount on Amazon. It has a large number of enthusiastic and positive user reviews. So if you are not sure which GPS heart rate monitor to go for, we would recommend that you first take a good look at the Forerunner 305.
---
Copyright 2007-2011 Heart-rate-monitor-watches.com
---