Home > Polar > FT80
Polar FT80 Heart Rate Monitor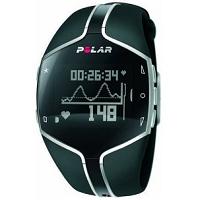 The Polar FT80 heart rate monitor is the next model up from the Polar FT60 in the new Polar FT series. It is a wireless heart rate monitor using coded transmission. It has features that correspond approximately to those of the older Polar F55. The FT80 comes in different packages. The Polar FT80G1 package includes the G1 GPS Sensor.
The main features of the FT80 heart rate monitor are:
Continuous heart rate monitoring so you can check your real time heart rate while exercising
Star Training Program: This is a personlised training program based on your user profile such as weight, height, age, sex, fitness level, activity level, and training goal. You can choose to: Improve Fitness or Maximize Fitness.
Two automatic methods of setting your heart rate training zones are available: one is age-based and the other, known as OwnZone, is based on your fitness on the day of the exercise. These automatic methods set up 3 heart rate zones: zone 1, zone 2, zone 3. You can train freely among these 3 heart rate zones or you can lock into one of them so you train strictly within that one zone.
The 3 heart rate zones' limits can be fully manually adjusted if desired. That adds a lot of flexibility so that you can train within the exact limits that you want.
Heart rate can be displayed either as beats per minute (BPM) or percentage of maximum heart rate (% MHR)
Strength Training Guidance
Polar OwnRelax Test: It measures your body's state of relaxation. The end result is a number called OwnRelax.
Polar Fitness Test: It is a simple test and it gives you a score called OwnIndex (comparable to VO2 Max) measuring your cardiovascular fitness.
Data displayed during training: your current zone, time in that zone, heart rate, time of day, calories, weekly target (if training program is used), duration. If you use the optional foot pod or GPS sensor, you can also see: speed, distance.
Stop watch to start, pause, resume or stop your exercise session
Training session is stored in a file. A file can recall the following data: training effect feedback, time spent in zones 1, 2, 3, OwnZone limits, calories burnt, fat percentage of calories burnt, average heart rate, maximum heart rate, duration. The following data can also be recalled if you used the GPS sensor or foot pod: average speed, maximum speed, distance. If the training program is in use, you can also see: your targets for the current week and the results you have achieved up to now.
Weekly follow-up: It will comment on your past week's results, summarize various training data, and give guidance for next week's training.
Intelligent Notifications: The Polar FT80 is a smart computer. It will notify you if it thinks you need to do a fitness test. Depending on your training results, it will also adjust your training program or recommend you to take a recovery week!
OwnIndex Results: 47 test values are stored. This allows you to monitor your long term fitness.
The Polar FT80 stores 100 files, with each file representing a given training session. You can thus review details of any one of your past 100 workouts.
You can review your weekly training summary for the last 16 weeks: Total duration, number of sessions, calories burnt for the week
You can also review totals starting from a given date: Total duration, total number of sessions, total calories burnt
Time, date, alarm, 2 time zones. The alarm can be set to one of the following: Once, Everyday, Monday to Friday.
Training sounds' volume adjustable.
Backlight
Button lock to prevent accidental presses . It can be set to manual or automatic lock.
HeartTouch: During training you can see the time of day display by simply bringing the wrist watch close the transmitter belt.
Wireless heart rate monitor with a coded analogue chest strap transmitter (WearLink) and a wrist watch receiver. Both the wrist watch's and the WearLink chest strap's batteries can be self-replaced. The coded wireless transmission avoids interference and cross-talk from other heart rate monitor users exercsing nearby.
Water resistant up to 30m. To maintain water resistance, do not press buttons while under water.
Polar FlowLink: This device is included in the Polar FT80. It allows you to transfer training data between your wrist watch and your computer for planning and analysis.
S1 Foot Pod (optional): This gives speed and distance information when running.
G1 GPS Sensor (optional): This provides speed/pace and distance measurement for outdoor sports like running and cycling.
The Polar FT80 is the next model after the Polar FT60 in the Polar fitness series. The differences between the two models are highlighted in bold in the list above. Bold in black means those features are found in FT80 but not in FT60.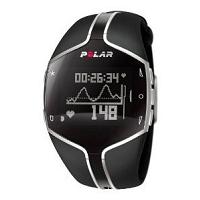 The main differences between the FT80 and the FT60 are:
Strength Training Guidance
Polar OwnRelax Test
Polar FlowLink device is included
Otherwise the FT80 pretty much has everything that the FT60 has. One exception is that the FT80 no longer keeps a Weight Diary.
Strength Training Guidance
Strength training exercise generally consists of sets and repetitions. Each exercise may have say 5 sets. The Strength Training Guidance is basically Polar informing you how long you need to rest in between doing sets. Once you have finished a set, Polar waits until your heart rate has dropped sufficiently before telling you to start the next set again. Following what Polar suggests can help you effectively improve your muscle strength and power and optimize your strength training. When using this feature, a heart rate graph is plotted and shown for your information. You can also create specific workouts on your computer and then download them to the wrist watch using the included Polar FlowLink device.
Polar OwnRelax Test
This test measures your state of relaxation. All you have to do is to be calm and relaxed at the point of testing, lie down, and start the test. It takes about 5 minutes. At the end of it you get a number called OwnRelax, which indicates how relaxed you are. Polar uses your heart rate and heart rate variability during the test to determine your OwnRelax value. You can find out whether you are above average or below average in your relaxation state by comparing your OwnRelax value to the standard values found in a Polar supplied table inside the user manual. The OwnRelax value is saved. The Polar FT80 can store a number of previous OwnRelax values. You can use these stored values to follow your long term OwnRelax results.
The Star Training Program
This is an intelligent, personalised training program that tells you how long and how intense you should train in each week based on your own goal. It then gives you feedback after each session. At the end of the week, it gives you training guidance for the following week. Furthermore it adapts to your training habits and changing fitness to make sure that it gives you the best advice. To use this program, first do a Polar Fitness Test. Then select one of the following training goals: Improve Fitness or Maximize Fitness. Once you have done that, the Polar FT80 suggests the total time target, individual time targets in zone 1, zone 2 and zone 3, and total calorie target for the next week. So you start training, and trying to fulfill what the Star Training Program suggests. After each session it will tell you if you have improved in Fat Burn, Fitness, Strength or a combination of those. At the end of the week, it will analyse your performance and may suggest that you train more, train less, train the same, or take a recovery week! It also has all sorts of reminders and notifications. For example it may remind you to do a Fitness Test. The Star Training Program continues to update and adapt itself based on your fitness. There are more features than can be covered here. The bottom line: It is as if you have a real coach guiding you by your side!
Speed and Distance Measurement
For those who would like to combine heart rate training and speed/pace training, this can now be done on the Polar FT80, provided the optional foot pod or GPS sensor is used. This makes the FT80 a very flexible training tool that will grow with your needs.
Summary
The Polar FT80 heart rate monitor is an advanced heart rate monitor based on the very competent Polar FT60. It has added several features to help with strength training and to measure your relaxation state. The Polar FlowLink data transfer device is also included. In common with the FT60, it has the very useful Star Training Program. The Star Training Program is for those serious about structured training and for those who wish to have guidance as they continue to train and improve. The Polar FT80 is the most advanced model in the entire Polar FT series. Note that the Polar FT80G1 model comes included with the G1 GPS Sensor.
| | |
| --- | --- |
| | This takes you to Amazon for some of the best selections for this model. Certain selections come with FREE Super Saver Shipping. |
Useful Information
Further information: Visit Polar's official web site.

This is the most advanced model in the Polar FT series.

Not sure which heart rate monitor is right for you? Take a look at the Which Heart Rate Monitor page.






---
Copyright 2007-2011 Heart-rate-monitor-watches.com
---