Home > Garmin > Forerunner 405CX
Garmin Forerunner 405CX GPS Heart Rate Monitor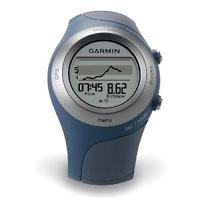 The Garmin Forerunner 405CX is a GPS-enabled heart rate monitor. In terms of style and size, it certainly improves on the Garmin Forerunner 305. There are other advances too including an advanced touch bezel (you tap it and it changes screen!) and the use of ANT+ technology for wireless data transfer between the wrist watch and the computer.
Note the Forerunner 405CX is a slight variation of the Forerunner 405. The two are almost identical in terms of features except for the following: The Forerunner 405CX uses heart-rate based computations to work out your calories burnt during a workout, whereas the Forerunner 405 uses distance-based calculations. On Forerunner 405CX, the heart rate monitor chest belt is always included, unlike the Forerunner 405 where the chest belt is optional in certain bundles. Lastly the colors available are different between the 2 models.
Below are the main features of the Garmin Forerunner 405CX GPS Heart Rate Monitor.
GPS-enabled heart rate monitor: It keeps track of distance and pace/speed, monitors heart rate, and offers a host of navigation features
Touch Bezel: It acts a multifunction button. On the touch bezel, you can tap, touch and hold, double press, touch and scroll. These simple movements allow you to make a selection, change pages, switch modes, scroll through menu options etc, without pressing any real buttons!
The wrist watch can show up to 4 data pages. Each page can have up to 3 fields. Therefore while you are running, you can examine in real time up to 12 pieces of data.
Data that can be shown include e.g. various cadence data (if using optional cadence sensor), calories, various distance data, elevation, gps accuracy, grade, various heart rate data, heart rate zone, heading, laps, various pace data, various speed data, sunrise, sunset, various time data, current time
Autoscroll - if this is turned on, the data pages are shown one after the other automatically. You can select speed of scrolling: slow, medium, fast.
Calorie counter: It is based on heart rate and hence it is much more accurate.
There are several sport modes including running and biking.
Time/distance alerts and pace alerts are available in advanced workouts.
Auto Pause: the timer is automatically paused and restarted depending on your speed/pace
Auto Lap: laps are marked automatically when you have travelled a certain distance or passed certain points during the run.
Virtual Partner: Competes against you while you run. The wrist watch display will show whether you are ahead or behind.
You can set up the following types of workouts: simple, interval, heart rate and advanced. See below for more information.
Simple workout: It is based on the following custom goals: Time, Distance, and Calories.
Heart rate workout (with alerts): Choose from one of the 5 heart rate zones (calculated automatically based on your maximum and resting heart rates) or customise your own heart rate alert limits.
Interval workout: First you set the time (or distance) you want to run and the time (or distance) you want to rest. This defines your intervals. You then decide how many times you want these to be repeated. This sets up your complete interval workout.
Advanced workout: You can set up multiple intervals, with each workout interval having a different goal. You have to use the included Garmin Training Center software to set up the workout on a computer and then download that to the wrist watch.
Course: You can set up a course based on a previous recorded run. Then you can race against the course, and see if you can better your previous performance/goal. You can use a Virtual Partner to help you with that.
Stop watch with up to 1000 laps.
1000 laps of history data is saved for review. The data includes time, distance, average pace/speed, calories, average heart rate data, average cadence.
There are various GPS navigation features on the Garmin Forerunner 405CX: Marking locations, going to a specific location, and finding your way to the starting point
Current time, date and alarm, 2 time zones
Backlight
Wireless heart rate monitor composed of a chest strap transmitter and a wrist watch receiver.
Waterproof i.e. splash/rain proof. It is NOT intended to be used while swimming.
The wrist watch unit uses an internal rechargeable battery. It comes with its own special charging clip and AC adapter. Battery life is about 6 to 8 hours of training when fully charged.
The chest strap uses a CR2032 user-replaceable battery.
USB ANT stick to wirelessly transfer data between the Garmin Forerunner 405CX and the computer. No cables are necessary.
You can share locations, advanced workouts and courses wirelessly with another Forerunner 405 i.e. unit to unit data transfer.
Foot pod (optional): It can be used if you are running on an indoor track or on an indoor treadmill when GPS signal is not available.
GSC 10 speed and cadence sensor for bikes (optional)
Use the Garmin Training Center desktop software to analyze or store your history data, or use it to create an advanced workout or a course.
You can also upload data to Garmin Connect, an online software, for analysis, mapping, and route sharing.
The main differences between Garmin Forerunner 405CX and Forerunner 405 are highlighted in bold in the list above. There really isn't a lot.
Note: On Garmin web site or manuals, the words "heart rate monitor" are used to denote the chest strap transmitter. This is in contrast to standard usage where "heart rate monitor" either refers to the wrist watch unit or to the combination of both the wrist watch unit and the chest strap transmitter. So please be aware of the difference to avoid confusion.
The most unusual feature of the Garmin Forerunner 405CX must be the Touch Bezel around the watch face. The Touch Bezel serves as a multi-purpose button, saving you having to make button presses. In fact there are only two real buttons on the Forerunner 405CX.
The wrist watch unit is a lot less bulky and a lot more stylish, as Garmin has managed to cram all that GPS functionality into a smaller unit. You can now wear it as an every day watch even when you are not training.
You can transfer data such as locations, advanced workouts and courses directly between adjacent Garmin Forerunner 405CX units. That means you can send your favourite workout for your friend to try out, or compete against your friend's recorded course.
Summary
Garmin makes a great effort in packing a lot of GPS functionality into a sleek and stylish wrist watch. The end result is the Garmin Forerunner 405CX. In terms of functionality it is not too different than the Forerunner 305. The Forerunner 405CX uses newer technologies compared to the Forerunner 305 in for example wireless data transfer and the cool Touch Bezel feature. Remember that the Garmin Forerunner 405CX differs from the Forerunner 405 chiefly in terms of how calories are computed: the 405CX via heart rate based calculations whereas the 405 via distance based calculations.
| | |
| --- | --- |
| | This takes you to Amazon for some of the best selections for this model. Certain selections come with FREE Super Saver Shipping. |
Useful Information
Further information: Visit Garmin's official web site.

Not sure which heart rate monitor is right for you? Take a look at the Which Heart Rate Monitor page.






---
Copyright 2007-2011 Heart-rate-monitor-watches.com
---