Home > Suunto > T6
Suunto T6 Heart Rate Monitor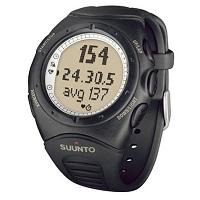 The Suunto T6 heart rate monitor is an advanced heart rate monitor. The Suunto T6 replaces the Suunto Coach found on the T4 with something more advanced: heart rate variability measurment and full featured PC training software for analysis and planning.

Important Note: There are more recent revisions of the Suunto T6 heart rate monitor. The Suunto T6c displays real time EPOC and Training Effect while the user is exercising. The T6c also comes with the new comfort heart rate belt. The T6d is the same as the T6c but it comes with the dual heart rate belt instead. This means that the T6d dual chest belt can provide either interference free heart rate monitoring, or if required, interface with cardio gym equipment via analogue transmission. So if you are buying new, it is probably better to choose Suunto T6d to take advantage of these new enhancements.

The main features of the Suunto T6 heart rate monitor are:
Continuous heart rate monitoring
You can set heart rate training limits
You can set a tone to beep when you train above/below your limits
Heart rate can be set and displayed as BPM (beats per minute) or % of Max HR (percentage of maximum heart rate)
Measures heart rate variability and calculates 7 key body parameters including EPOC
PC training software and USB cable for data download
Altimeter
Barometer
You can view real time average heart rate
Calories burnt (viewed using PC training software)
Stop watch to start and stop exercise session
You can take laps, up to 100 of which are stored in memory per session
Two segment Interval timer with warm up timer. Countdown timer.
Post-exercise summary: Duration, average heart rate, minimum and maximum heart rate, time spent below/in/above zone limits, speed and distance info (if relevant), altitude info, lap info
You can save the summary of multiple exercise sessions (called logs)
You can examine history (cumulative total of several logs) for certain heart rate information
Basic time keeping: Time (2 time zones), date, 3 alarms
Backlight
Button lock
Both chest strap and wrist watch batteries are user replaceable
Water resistant up to 100m for the wrist watch and 20m for the transmitter belt
Digital wireless chest strap for interference free transmission
Optional PODs (not included in standard package) to give the Suunto T6 heart rate monitor other capabilities: GPS POD, Bike POD, Foot POD and PC POD.
Note that the features in bold above show the features found in Suunto T6 but not in Suunto T4. Note that Suunto T6 does away with some minor features of the T4.
| | |
| --- | --- |
| | This takes you to Amazon for some of the best selections for this model. Certain selections come with FREE Super Saver Shipping. |
PC Training Software: The Suunto T6 heart rate monitor measures your heart rate variability (beat to beat interval) and uses that to calculate important body parameters like EPOC, respiratory rate and energy consumption. When you download this information to your PC, the PC Training Software is able to come up with a training plan for you. The software has a Training Effect calculator, which helps you decide the target average heart rate and target duration for your next exercise session. The software gives you a full picture of the effectiveness of your training. Its strength lies in the graphical visualization of your various body functions during the workout. These are really invaluable information.
Altimeter: You will be able to see your altitude, vertical speed, cumulative ascent and descent.
Barometer: You can see temperature, pressure and weather information for the last 48 hours.
Note that you can choose to use either the altimeter or the barometer but not both.
Optional PODs: There are 3 types of PODs (Peripheral Observation Devices) for speed and distance measurements: GPS POD, Bike POD and Foot POD. If you use one of them, you can set your speed limits and also review your speed and distance information real time and also in summary. In addition a number of other facilities such as autolap, speed limit alarms, interval training by distance etc become available.
PC POD enables data download directly from your chest belt to the PC, allowing real time monitoring of your heart rate on the PC screen. The T6 wrist watch unit can also connect to the PC via the PC POD. The PC POD comes with a special monitoring software.
Summary
The Suunto T6 heart rate monitor
is a very advanced heart rate measuring device. It measures beat to beat interval, from which it derives many important body parameters related to your aerobic fitness and training. The training software then takes all this information to help you analyse and plan your next workout, ensuring that you train optimally for your personal goals. It also incorporates an altimeter/barometer for outdoor uses. It has also retained the standard features of T3/T4 such as digital transmission, interval timer and POD compatibility. This is a great heart rate monitor and has very favourable reviews among its users.
| | |
| --- | --- |
| | This takes you to Amazon for some of the best selections for this model. Certain selections come with FREE Super Saver Shipping. |
Useful Information
Reviews: This page has a concise summary of Suunto heart rate monitor reviews.
Further information: Visit Suunto's official web site.

Not sure which heart rate monitor is right for you? Take a look at the Which Heart Rate Monitor page.






---
Copyright 2007-2011 Heart-rate-monitor-watches.com
---