Home > Impact Sports > ePulse2
ePulse2 Heart Rate Monitor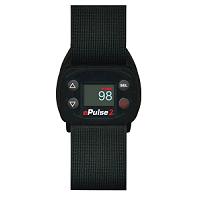 The ePulse2 heart rate monitor by Impact Sports is a strapless heart rate monitor i.e. it does not require a chest strap. It is the 2nd generation of the ePulse heart rate monitor. The ePulse2 has several improvements over the original ePulse both in its external design and in the features that are offered.
The unusual thing about this monitor is that it provides continuous heart rate monitoring. Most other strapless heart rate monitors measure heart rate on demand i.e. when you put your finger on the wrist watch sensors. So this continuous heart rate monitoring feature is a major plus for ePulse2.
The ePulse2 heart rate monitor is not a wrist watch. It is designed rather more like an arm band to be wrapped around the (upper) forearm. Once positioned correctly it continuously measures your heart rate. You can have the heart rate display on all the time or you can save battery by turning on the display only when you want it.
The main features of ePulse2 heart rate monitor are in the list that follows. Note that the bolded features denote those that are found on ePulse2 but not on the original ePulse.
Continuous heart rate monitoring without the use of chest strap
Based on your personal data (gender, age, weight, height etc), it can calculate and suggest your target heart rate training levels for fat burning zone and cardio conditioning zone. You can also set you own custom zone limits. A green indicator light shows when you are training within the zone.
Stop watch with capacity to store up to 64 split times
Calorie countdown (optional): You can set a calorie burn target and it will count the calories down for you automatically.
The display can show the following basic training data: heart rate, calories burned, current exercise time, stop watch, calorie countdown
Further training data can also be reviewed: split times, basal metabolic rate (see note 1), average, minimum and maximum heart rates, total daily exercise calories burned (see note 2)
Pressing the reset button resets the following quantities: average, minimum and maximum heart rates, calorie countdown, total exercise time, total calories and stored split times
The display can be viewed continuously or turned on only on demand. The on demand display mode saves battery.
LED display for easy reading day or night
Rechargeable using the supplied charger. Charge status indicator shows how much charge is left.
Note 1: Basal metabolic rate is an estimate of the total calories you will burn in a day without exercise based on your personal data.
Note 2: The values of the following quantities: average, minimum and maximum heart rates and total daily exercise calories burned are values obtained since the last (daily) reset. They do not relate to the session that you have just completed.
Comments
Here is a quick summary of what is new on ePulse2. It is now possible to set your own custom zone limits. There is a stop watch facility which also enables you to store split times. A calorie countdown feature lets you set a calorie target and then shows your progress towards achieving your goal. The unit is now also rechargeable.
Summary
The ePulse2 heart rate monitor is an innovative product, being able to provide continuous heart rate monitoring without a chest strap. Its heart rate measurement accuracy is comparable to other heart rate monitors which require the use of a chest strap. It is designed for daily activities, and not just for intense exercises such as running or aerobics. It also keeps a total of your daily calories burnt, in addition to the calorie burnt due to exercise.
Being a second generation product, the ePulse2 heart rate monitor is better designed and has more features compared to the original ePulse. So for exercisers who finds wearing chest strap uncomfortable or who simply are tired of wearing it, and yet who want continuous heart rate monitoring and calorie counting, then the new ePulse2 may well be the right strapless heart rate monitor.
| | |
| --- | --- |
| | This takes you to Amazon for some of the best selections for this model. Certain selections come with FREE Super Saver Shipping. |
Useful Information
Further information: Visit Impact Sports' official web site.

Not sure which heart rate monitor is right for you? Take a look at the Which Heart Rate Monitor page.






---
Copyright 2007-2011 Heart-rate-monitor-watches.com
---