Home > Mio > Energy Pro
Mio Energy Pro Heart Rate Monitor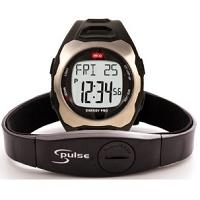 The Mio Energy Pro heart rate monitor is a member of the new Smart Touch series. It is a rather an unusual monitor because it can be used with or without a chest strap. When used without a chest strap, the new Smart Touch technology is used to measure heart rate on demand, so now all it takes is to place one finger (not two) on the palm sensor and wait for a few seconds for the heart rate readout. However, if you prefer to have continuous heart rate monitoring, then all you have to do is to wear the included chest strap, and it will give you continuous heart rate readout. So you can have the best of both worlds, depending on the sports you are practising and your own preference.

Its main features are:
Strapless (no chest strap), on demand heart rate monitoring
Continuous heart rate monitoring with the use of a chest strap
Heart rate displayed as beats per minutes and percentage of your maximum heart rate
Manual setting of heart rate training zone
Automatic setting of heart rate training zone. You can choose one of 3 calculated heart rate zones (based on your own personal data).
Audible beeps and visual indicators show you when you are training below or above your heart rate training zone
You can view the following workout data: times below/in/above your target heart rate zone, calories burnt, fat burnt, maximum and average heart rates, total workout time.
Countdown timer
Stop watch
It records up to 25 laps. You can later review individual lap times and average heart rate for each lap.
Basic time keeping: time, day of the week, date, daily alarm
Backlight
Note that there is a package that bundles the Mio Energy Pro with the Mio FitStik. The FitStik is a little USB device used to determine your true fitness level. It takes data from the chest strap and then works with an external web site to perform a series of health and fitness tests so you get a picture of your stress level, your fitness level, and the age of your heart. See the package as shown below.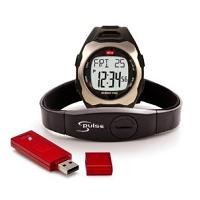 The Mio Energy Pro heart rate monitor allows you to set a heart rate training zone, which is important if you are monitoring your heart rate continuously using a chest strap. Audible and visual alerts help you stay within your zone. It also provides you with a good amount of workout data such as your average and maximum heart rates of the session, and time spent below/in/above your target zone. For runners, this Mio heart rate monitor is capable of recording up to 25 laps.
When you are using the Mio Energy Pro as a strapless heart rate monitor, it utilizes Smart Touch, which requires only one finger (or any part of the palm) to be on the sensor for heart rate to be measured. That makes the measurement process easier in contrast to other strapless heart rate monitors.
During the set up phase, you should input personal data such as birth date, height and weight to ensure that the calorie calcuations are accurate.
Summary
The Mio Energy Pro
is one of the very few heart rate monitors that let you monitor your heart rate either with or without a chest strap. For certain sports, it is best to use a chest strap, whereas for others, it is not necessary to use one. This flexibility is a great strength of the Mio Energy Pro.
| | |
| --- | --- |
| | This takes you to Amazon for some of the best selections for this model. Certain selections come with FREE Super Saver Shipping. |
Useful Information
Reviews: This page has a concise summary of Mio heart rate monitor reviews.
Further information: Visit Mio's official web site.

Not sure which heart rate monitor is right for you? Take a look at the Which Heart Rate Monitor page.






---
Copyright 2007-2011 Heart-rate-monitor-watches.com
---