Home > Mio > Shape
Mio Shape Heart Rate Monitor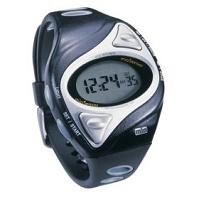 The Mio Shape heart rate monitor is a simple strapless ECG accurate heart rate monitor. Without a chest strap transmitter, it requires that you put two fingers on the sensors on the wrist watch to measure your heart rate. Hence it measures heart rate on demand, rather than continuously. It is one model up from the Mio Sport model. Note that Mio Shape has 2 variants: Mio Shape Select and Mio Shape Select Petite. See below for further information.

Its main features are:
Strapless (no chest strap), on demand heart rate monitoring
Heart rate displayed as beats per minutes and percentage of your maximum heart rate
Calories consumption during exercise calculated based on age, gender and weight and heart rate readings
Additional calorie management facilities such as target calorie intake and daily calorie intake
Stop watch with basic lap/split time functionality
Basic time keeping: time, date, alarm (if set), hourly chime (if set)
Backlight
Note that the features in bold above show the features found in Mio Shape but not in Mio Sport.
The Mio Shape heart rate monitor has some additional calorie management facilities. First you can set your own target calorie intake per day. If you then eat something, you can input its calorific amount into the watch. This amount is accumulated, depending on how many meals/snacks you have had during the day. The amount you consume will show up against your target calorie intake in the form of bars:
0 bar: less than one third of target
1 bar: between one third and two thirds of target
2 bar: between two thirds of target and 1 calorie less than target
3 bar: reaching or exceeding the target
This allows you to see, as you eat throughout the day, whether you are approaching your target daily amount or are beginning to exceed it. You can also have your exercise calorie burnt amount deducted from your calorie consumed automatically, if you wish. For example, if you have just burnt 300 calories in your exercise, you daily amount will be reduced by 300, so you can afford to eat more (for the day) before reaching your daily target. At the end of the day, you reset the daily calorie intake and the next day, you start counting afresh.
Obviously you don't need to use all these calorie management facilities. But they are there if you choose to use them.
The 2 other variants of Mio Shape are Mio Shape Select and Mio Shape Select Petite. They have exactly the same functionality as the Mio Shape with the exceptions noted in the table below:
Mio Shape Select
Mio Shape Select Petite
Interchangeable watch band
Interchangeable watch band
For wrists sized 6-3/4 inches or smaller
You can buy optional additional interchangeable watch bands to customize Mio Shape Select and Mio Shape Select Petite's look, allowing you to choose a color that represents your style. The petite version is, as its name implies, for women with smaller wrists less than 6-3/4 inches in size.
Note: You might also have come across the Mio Classic Select and Mio Classic Select Petite models. They are the same as the Mio Shape Select and the Mio Shape Select Petite, respectively.
Summary
The Mio Shape heart rate monitor and its variants have more detailed calorie management facilities compared to the Mio Sport models. If you know the calorific content of the food you eat off the top of your head (and many dieters do), this can be a great monitor for you.
| | |
| --- | --- |
| | This takes you to Amazon for some of the best selections for this model. Certain selections come with FREE Super Saver Shipping. |
Useful Information
Reviews: This page has a concise summary of Mio heart rate monitor reviews.
Further information: Visit Mio's official web site.

Not sure which heart rate monitor is right for you? Take a look at the Which Heart Rate Monitor page.






---
Copyright 2007-2011 Heart-rate-monitor-watches.com
---