Home > Mio > Wave
Mio Wave Heart Rate Monitor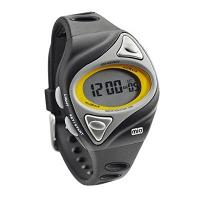 The Mio Wave heart rate monitor is a most basic strapless heart rate monitor with ECG accurate measurements. It does not have a chest strap transmitter and requires that you put two fingers on the sensors on the wrist watch to measure your heart rate. Hence it measures heart rate on demand, rather than continuously.

Its main features are:
Strapless (no chest strap), on demand heart rate monitoring
Heart rate displayed as beats per minutes and percentage of your maximum heart rate
Stop watch
Basic time keeping: time, date, alarm (if set), hourly chime (if set)
Backlight
Summary
The Mio Wave is a very basic heart rate monitor. For example, it does not have a calorie counter found in many other Mio models. As such it really is not so much an exercise heart rate monitor, but rather a device for someone to occasionally check up his/her heart rate.
Useful Information
Reviews: This page has a concise summary of Mio heart rate monitor reviews.
Further information: Visit Mio's official web site.

Not sure which heart rate monitor is right for you? Take a look at the Which Heart Rate Monitor page.






---
Copyright 2007-2011 Heart-rate-monitor-watches.com
---