Home > Mio > Zone Plus
Mio Zone Plus Heart Rate Monitor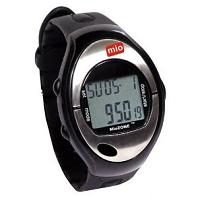 The Mio Zone Plus heart rate monitor is a strapless ECG accurate heart rate monitor. Without a chest strap transmitter, it requires that you put two fingers on the sensors on the wrist watch to measure your heart rate. Hence it measures heart rate on demand, rather than continuously. Unlike many strapless heart rate monitors, the Mio Zone Plus allows you to set a heart rate training zone. Furthermore it calculates the average/maximum heart rates achieved during the exercise. However, it does not count calories, a feature quite common among popular strapless heart rate monitors.

Its main features are:
Strapless (no chest strap), on demand heart rate monitoring
Heart rate displayed as beats per minutes and percentage of your maximum heart rate
Manual setting of your heart rate training zone
Audible beeps and visual indicators show you if your heart rate is below or above your heart rate training zone when you measure it.
Average and maximum heart rates during exercise calculated/recorded. You can check these numbers during exercise or at the end of the exercise.
Stop watch
Auto repeating countdown timer
Record up to 16 laps
You can review individual lap time, average lap time and total lap time.
Basic time keeping: time, date, alarm (one specific weekday or everyday)
Backlight
Since the Mio Zone Plus does not monitor heart rate continuously, the average and maximum heart rates of the training session depend on when (how frequent) you actually measure your heart rate. The manual suggests that you should measure your heart rate at the beginning of the workout, whenever you change the intensity of the workout, and at the end of the workout. Note that the stop watch must be started in order for the HRM to calculate average heart rate. The average and maximum heart rates give you a much better review of how your session went.
With the auto repeating countdown timer, the timer beeps when it counts to zero, but then it restarts again and the cycle goes on until you stop the timer.
For runners, it is now possible to record up to 16 laps. You will be able to review your stats later on when you have finished.
Summary
The Mio Zone Plus offers features such as heart rate training limits and calculates average/maximum heart rates even though it is a strapless heart rate monitor. In these respects the Zone Plus is fairly unique.
| | |
| --- | --- |
| | This takes you to Amazon for some of the best selections for this model. Certain selections come with FREE Super Saver Shipping. |
Useful Information
Reviews: This page has a concise summary of Mio heart rate monitor reviews.
Further information: Visit Mio's official web site.

Not sure which heart rate monitor is right for you? Take a look at the Which Heart Rate Monitor page.






---
Copyright 2007-2011 Heart-rate-monitor-watches.com
---