Home > Nike > CV10
Nike CV10 Heart Rate Monitor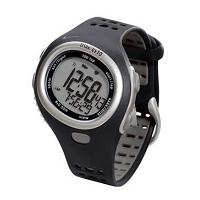 Nike CV10 heart rate monitor is a mid range heart rate monitor in the Nike Triax series for runners. It incorporates the capabilities of the Nike C10. In addition it includes an SDM pod which you attach to one of your shoes. The SDM pod then measures speed and distance while you are running and sends the information to the wrist watch.
Important Note: The Nike CV10 is obsolete. Please take a look at the Garmin FR60, it has similar features.
Here are the main features of Nike CV10 heart rate monitor:
Continuous Heart Rate Monitoring: You can see, at any point during the exercise, what your heart rate is.
You can train inside a heart rate zone by setting your upper and lower heart rate limits. An audible alarm (if switched on) and a visual indicator will alert you when you train outside of your heart rate limits.
SDM pod: You attach it to your running shoe to measure speed and distance.
You can also train inside a pace zone by setting your upper and lower pace limits. An audible alarm (if switched on) and a visual indicator will alert you when you train outside of your pace limits.
Stop watch to start and stop exercise session
You can manually mark lap and split time. Lap time is elapsed time for one lap. Split time is total elapsed time from the start. You can mark up to 100 laps in total. Your average heart rate, average pace, and distance covered in a given lap are also recorded.
You can also switch on an Auto-Lap feature, which marks laps automatically after every set distance that you decide, say, a mile. In that case it will mark laps at 1 mile, 2 mile, 3 mile and so on.
You can customise the display so you see only the information that you are interested in during your exercise.
Post session summary: You can recall the total time, distance covered, average heart rate for the session, average pace for the session, the time you spent in/above/below your target zone (whether it be heart rate based or pace based) and detailed lap information (See next bullet point)
If you have taken laps, you can review your average lap time and best lap (in terms of both time and pace). Furthemore, for each lap, you can see your split time, lap time and average heart rate, average pace and distance covered. There is a lot of info stored here!
You can store training data from multiple sessions.
Basic Time Keeping - Time, date, two alarms
Power Save feature: You can set the time after which the watch will go to sleep i.e. the display goes off to save battery life. Wake up the watch up by pressing any button.
Backlight
Wireless heart rate monitor with an digital chest strap transmitter and a wrist watch receiver
Note that the features in bold above show the features present in Nike Triax CV10 but not in Nike Triax C10.
One more thing. Unlike the Nike C10, the Nike CV10 heart rate monitor does not have the 5-segment countdown timer for running intervals. For some reason this feature has been dropped.
For more information about the features that the Nike CV10 and the Nike C10 have in common, please read the Nike C10 page.
So let us look at the additional functionalities of the Nike CV10 heart rate monitor.
Traditionally runners think in terms of pace (i.e. how long it takes to run a set distance) in order to quantify their training and racing. The addition of the SDM pod enables runners to revert back to this traditional way of thinking and training.
You can now set up pace-based training zone i.e. you define you upper and lower pace (speed) limits. For example you can set your pace limits to be 7 minute mile (upper) and 8 minute mile (lower). If you run slower than 8 minute mile, the wrist watch beeps. Likewise, if you run faster than 7 minute mile. This again brings an element of control to your training.
You can now review speed and distance information on the wrist watch, both while you are doing the training and when you have finished.
Summary
All in all, this is an advanced heart rate monitor for serious runners. The introduction of a foot pod allows you to measure speed and distance while training. You can also opt to do pace based training instead of heart rate based training.
Useful Information
Reviews: This page has a concise summary of Nike heart rate monitor reviews.
Further information: Visit Nike's official web site.

Not sure which heart rate monitor is right for you? Take a look at the Which Heart Rate Monitor page.






---
Copyright 2007-2011 Heart-rate-monitor-watches.com
---