Home > Oregon Scientific > AH310
Oregon Scientific AH310
Heart Rate Monitor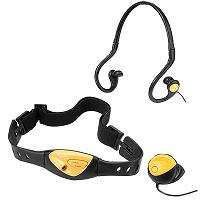 Oregon Scientific AH310 talking heart rate monitor is the second model in the AH series. It shares with the AH300 the common feature of being a no-wrist watch, headphones only talking heart rate monitor. You input your personal settings to the heart rate monitor via the buttons on the chest strap and receive voice prompts and confirmations via the headphones.

The AH310 addresses also a few shortcomings of the AH300. It now lets you set your own heart rate training limits. You can also set your timer durations. And if you don't want to do timer based training, the AH310 is now equipped with a stop watch. Lastly the AH310 comes with an FM radio to keep you entertained while you are training.

The AH310 is a basic heart rate monitor.

The main features of the Oregon Scientific AH310 are:
Continuous heart rate monitoring
You receive your current heart rate (and other feedback of your training) via headphones. You can choose how frequent you receive such announcements: 30 seconds, 1, 2 or 3 minute(s).
You can also get an immediate announcement of your current heart rate by pressing a button.
You can control the volume of the voice prompts: High, low, medium.
The AH310 stores your user profile: Gender, age, height, weight and exercise habit (seldom, usually, athlete).
The AH310 uses your user profile and your chosen exercise type (walk, jog, run) to calculate your heart rate limits automatically.
You can also set your heart rate limits manually as part of your exercise profile.
The AH310 also uses your user profile to calculate your calorie consumption.
You will hear heart rate alerts if you train above or below your heart rate zone limits.
Timer-based Smart Training Program. It consists of 3 phases: a warm up period, an exercise period and a recovery period.
You can manually set the durations of the warm up period and the exercise period as part of your exercise profile.
You can now choose to train with a timer or a stop watch in your exercise profile. The stop watch is useful if you don't want to preset the duration of your exercise period.
You will be talked through the various periods so you know where you are in the training process. Periodically you will get an update on your calories burnt and a suggestion on whether you should increase or decrease your effort.
When your Smart Training Program is completed, you can hear the following voice prompts announced: Exercise time in training zone, calories burnt, average heart rate, total exercise time, recovery heart rate.
The monitor now comes with an FM radio.
Battery for the chest strap is user-replaceable.
When the battery is running low, you get a voice prompt.
The features in bold above denote the features found in AH310 but not in AH300.
Note: The exercise types correspond to the following heart rate limits:
Walk: 65 to 78% of your maximum heart rate
Jog: 65 to 85% of your maximum heart rate
Run: 78 to 90% of your maximum heart rate
The words walk, jog and run are just substitute words for these training limits. It does not mean that you have to walk or jog or run to use this heart rate monitor!

Here is what roughly each exercise habit means:
Seldom: You don't normally exercise much.
Usually: You exercise 2 or 3 times a week requiring modest exertion.
Athlete: You take part regulary and actively in sports requiring heavy exertion.
With the Oregon Scientific AH310, you now have much more control over your training. You can now set many training parameters like heart rate limits, warm up and exercise periods manually. You can also now use a stopwatch instead of a timer.
The FM radio is a separate unit. First you plug your headphones to the FM radio. Then you plug the cable of the FM radio to the chest strap. You can store up to 5 FM radio channels. With this feature you can enjoy your favourite radio doing your workout. You will still be able to listen to the voice announcements when they come along. If you choose not to use the radio, simply connect your headphones to the chest strap directly, bypassing the radio unit.
Summary
The Oregon Scientific AH310 is a much more complete heart rate monitor than the previous model, the AH300. The enhancements make the AH310 feel much more like a "proper" heart rate monitor, instead of just a novelty object. If you like your training information to be read out to you and you also want a bit of fun, Oregon Scientific AH310 is the one.
Useful Information
Reviews: This page has a concise summary of Oregon Scientific heart rate monitor reviews.
Further information: Visit Oregon Scientific's official web site.

Not sure which heart rate monitor is right for you? Take a look at the Which Heart Rate Monitor page.






---
Copyright 2007-2011 Heart-rate-monitor-watches.com
---