Home > Oregon Scientific > SE212
Oregon Scientific SE212
Heart Rate Monitor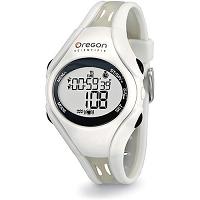 Oregon Scientific SE212 (Vibra Trainer Elite) heart rate monitor is an intermediate heart rate monitor for women with smaller wrists. It has several distinctive features: Vibration alert, timer-based Smart Training Program, switchable analogue and digital transmission, making the SE212 particularly useful in a crowded, noisy gym environment.

Apart from the size and shape of the watch, the Oregon Scientific SE212 is otherwise identical to the Oregon Scientific SE211.

The main features of the Oregon Scientific SE212 are:
Continuous heart rate monitoring
You can manually set your heart rate training zone.
You can also get the watch to set your heart rate training zone automatically for you, based on your gender, age, height, weight, activity level (how often and heavily do your exercise) and target activity (how intense do you want your training to be).
An audio alarm (if switched on), wrist watch vibration (if switched on) and visual indicators alert you when you are training above or below your heart rate zone limits.
Timer and stop watch. You can do two types of training: Timer-based Smart Training Program and the usual stop watch based training.
The Smart Training Program consists of a warm up period and an exercise period, with your heart rate limits being set automatically for you. See bullet point above. The end of both periods are marked by the firing of a timer. Both periods are adjustable in length.
You can set up 1 exercise profile for use with both the Smart Training Program and the stop watch.
While the Smart Training Program is running, you can review the following data (in addition to the current heart rate): Remaining warm up or exercise time (depending on what stage of the program you are in), calories burnt and % of fat burnt, and current time.
While the stop watch is running, you can review the following data (in addition to the current heart rate): Current stop watch time, calories burnt and % of fat burnt, and current time.
When you have finished your Smart Training Program or your stop watch based training, you can review: Total exercise time, maximum heart rate, average heart rate, calories burnt, % of fat burnt, time in/above/below target zone
Basic time keeping: Time, date and two alarms. With each alarm, you can set it to go off every day, only on weekdays, or only on weekends.
Backlight
Wireless heart rate monitor (ECG accurate) with a switchable analogue and digital chest strap transmitter and a wrist watch receiver. One touch on a button located on the transmitter changes the transmission type.
Keypad lock on wrist watch so that its operations are not affected by the accidental pushing of buttons
Keypad tone: If switched on, you get a beep pushing a button. If switched off, you get silent operation.
Battery for chest strap transmitter is user-replaceable.
It can work with gym equipment (e.g. treadmills) capable of picking up your transmitter's signals to show your heart rate on the equipment's display panel
Mounting bracket
The features in bold above denote the features found in SE212 but not in SE102.
The Oregon Scientific SE212 has the same unusual feature which it shares with the SE102: Vibration Alert. This can be a useful feature in a noisy gym or when you are wearing headphones.
The Smart Training Program is effectively a timer-based training. The SE212 works out your heart rate limits for you, based on your target activity (how hard you want to train) in your exercise profile, and your activity level (how regular you train) and your personal data. You then do a warm up, followed by a proper exercise. That sums up what it is. No need to get confused by marketing speak!
At the end of your stop watch-based or timer-based training, you can now also see not just your calories consumed, but the percentage of that due to fat being burnt off. Really useful for you, if you are aiming to lose weight or just to keep your existing form. In addition you can also see your time spent training inside, above and below your target heart rate limits, for you to assess whether you have been training as you intended.
The most unique feature of the Oregon Scientific SE212 heart rate monitor is the switchable analogue and digital chest strap transmitter. If you want your heart rate monitor to interface with gym equipment, use analogue transmission. If you are facing interference from other heart rate monitor users, use digital transmission. Use whatever that suits your circumstance at the time of your training.
Summary
The Oregon Scientific SE211 is not an ordinary heart rate monitor. It has a unique switchable analogue and digital transmitter. In addition, it has a range of intermediate features. The vibration alert and switchable transmission features can be put to use it in a crowded or noisy environment. Its small size is designed to suit women's smaller wrists.
Oregon Scientific has also released the SE211 (Vibra Trainer Fit) model, which has the exact same features as the SE212, but designed for users with average or larger wrists.
Useful Information
Reviews: This page has a concise summary of Oregon Scientific heart rate monitor reviews.
Further information: Visit Oregon Scientific's official web site.

The next models in the SE series are the Oregon Scientific SE232 (for average wrist size) and SE233 (for smaller wrist size) heart rate monitors.

Not sure which heart rate monitor is right for you? Take a look at the Which Heart Rate Monitor page.






---
Copyright 2007-2011 Heart-rate-monitor-watches.com
---