Home > Polar > FT4
Polar FT4 Heart Rate Monitor
The Polar FT4
heart rate monitor is the next model up from the Polar FT2 in the new Polar FT series. It is a wireless heart rate monitor using coded transmission and is designed to replace the old Polar F4. The FT4 has two variants: a silver one for both men and women and a brown one for women only.
The main features of the FT4 heart rate monitor are:
Continuous heart rate monitoring so you can check your real time heart rate while exercising
Automatic heart rate zone: You input your age and it calculates your maximum heart rate (MHR). It then sets up your heart rate zone based on your MHR.
Manual heart rate zone: You can set your upper and lower training limits (with alarm). The alarm sounds when you are not exercising within the heart rate limits. The visual "in zone" display on the wrist watch to inform you whether you are training within or outside your heart rate limits.
Heart rate can be displayed either as beats per minute (BPM) or percentage of maximum heart rate (% MHR)
Data displayed during training: real time heart rate, calories, duration, in zone
Stop watch to start, pause, resume or stop your exercise session
Training session is stored in a file. A file can recall the following data: duration, calories, average heart rate, maximum heart rate, time in target zone
The Polar FT4 stores 10 files, with each file representing a given training session. You can thus review details of any one of your past 10 workouts.
You can also review totals starting from a given date: Total duration, total number of sessions, total calories burnt
Time, date, alarm, 2 time zones
Backlight
Button lock to prevent accidental presses
HeartTouch: During training you can see the time of day display and turn on the backlight by simply bringing the wrist watch close the transmitter belt.
Wireless heart rate monitor with a coded analogue chest strap transmitter (WearLink) and a wrist watch receiver. Both the wrist watch's and the WearLink chest strap's batteries can be self-replaced. The coded wireless transmission avoids interference and cross-talk from other heart rate monitor users exercsing nearby
Water resistant up to 30m. To maintain water resistance, do not press buttons while under water.
The Polar FT4 is the next model after the Polar FT2 in the Polar fitness series. The differences between the two models are highlighted in bold in the list above. Bold in black means those features are found in FT4 but not in FT2.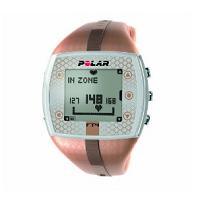 The two major additional features for the FT4 (over those of FT2) are:
It now comes with a calorie counter. You can see your calories burnt both real time and after the end of the session.
It now stores training data for 10 workout sessions. The FT2 only stores one session's worth of data.
Some of the minor additional features are:
It can now display your current heart rate in terms of percentage of your maximum heart rate. This can be quite useful sometimes.
Once you have finished your session, you can see the time you spent training in your target zone as part of the summary.
It provides the sum totals of various statistics from your training sessions starting from the last reset date.
It now comes with an ordinary wake up alarm.
The stop watch timer can be paused and resumed.
Summary
The Polar FT4
heart rate monitor contains significant enhancements over the preceding model Polar FT2. It will suit those users concerned with calorie expenditure and weight management. The ability to review the past 10 sessions is also good for tracking and comparing previous efforts and performances. For women there is a brown and more elegant version of the Polar FT4 which can be worn all day. All in all, it is a nice, stylish and practical heart rate monitor.
| | |
| --- | --- |
| | This takes you to Amazon for some of the best selections for this model. Certain selections come with FREE Super Saver Shipping. |
Useful Information
Further information: Visit Polar's official web site.

Next up in the Polar FT series is the Polar FT7.

Not sure which heart rate monitor is right for you? Take a look at the Which Heart Rate Monitor page.






---
Copyright 2007-2011 Heart-rate-monitor-watches.com
---