Home > Polar > FT40
Polar FT40 Heart Rate Monitor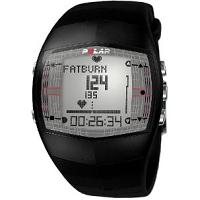 The Polar FT40 heart rate monitor is the next model up from the Polar FT7 in the new Polar FT series. It is a wireless heart rate monitor using coded transmission and has features approximately in between the older Polar F6 and Polar F11. The FT40 has several variants differing in either size or color.
The main features of the FT40 heart rate monitor are:
Continuous heart rate monitoring so you can check your real time heart rate while exercising
Automatic Setup of Fat Burning and Fitness Improvement Heart Rate Zones (with alarm): You input your age and personal profile information including activity level. It works out your maximum heart rate (MHR). You can input your MHR yourself if you know what it is. It then sets up the two zones based on your MHR and your current physical condition.
EnergyPointer: When you train, this is a graphical pointer which tells you which zone you are in so that you know if the main effect of your current training effort will result in fat burning or fitness improvement. You can lock into a particular zone, depending on your goal for the session.
Heart rate upper limit (while exercising) can be set. This is an important feature for those users who might be advised by doctors not to train beyond a certain heart rate limit. Note that this is different from MHR, which is the absolute maximum of your HR.
Heart rate can be displayed either as beats per minute (BPM) or percentage of maximum heart rate (% MHR)
Polar Fitness Test: It is a simple test and it gives you a score called OwnIndex (comparable to VO2 Max) measuring your cardiovascular fitness. It stores the 2 latest OwnIndex results.
Data displayed during training: real time heart rate, calories, time of day, duration.
Stop watch to start, pause, resume or stop your exercise session
Training session is stored in a file. A file can recall the following data: duration, calories burnt, fat percentage of calories burnt, average heart rate, maximum heart rate, time spent in fat burning zone, time spent in fitness improvement zone.
The Polar FT40 stores 50 files, with each file representing a given training session. You can thus review details of any one of your past 50 workouts.
You can review your weekly training summary for the last 16 weeks: Total duration, number of sessions, calories burnt for the week
You can also review totals starting from a given date: Total duration, total number of sessions, total calories burnt
Time, date, alarm, 2 time zones. The alarm can be set to one of the following: Once, Everyday, Monday to Friday.
Training sounds' volume adjustable.
Backlight
Button lock to prevent accidental presses . It can be set to manual or automatic lock.
HeartTouch: During training you can see the time of day display by simply bringing the wrist watch close the transmitter belt.
Wireless heart rate monitor with a coded analogue chest strap transmitter (WearLink) and a wrist watch receiver. Both the wrist watch's and the WearLink chest strap's batteries can be self-replaced. The coded wireless transmission avoids interference and cross-talk from other heart rate monitor users exercsing nearby
Water resistant up to 30m. To maintain water resistance, do not press buttons while under water.
Polar FlowLink (optional): This is an optional device that allows you to transfer training data from your wrist watch to your computer for analysis
The Polar FT40 is the next model after the Polar FT7 in the Polar fitness series. The differences between the two models are highlighted in bold in the list above. Bold in black means those features are found in FT40 but not in FT7.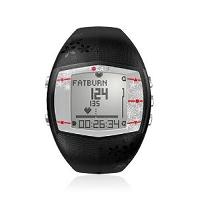 The one major addition for the Polar FT40 (over those of FT7) is:
You can do the Polar Fitness Test periodically to see how your fitness improves over time. It is great to see the improvements in your fitness quantified in some way.
This test is done while you are resting. You don't have to do any exercise while being tested. The test monitors your heart rate and heart rate variability at rest, taking into account your sex, height, weight and you own self-assessed volume of physical activity. It takes a few minutes to do that while you are resting. When it is done, you get a score called the OwnIndex, a number which is comparable to VO2 Max. This number is an indication of your aerobic fitness. You can then compare this number to a table on the manual to see how fit you are compared to people of the same age group and sex. Do the test in a few weeks' time to see how your fitness has improved over time.
Polar FT40, just like the Polar FT7, has one highly interesting feature. It works out your own personal fat burning zone and fitness improvement zone, based on your own profile data and your current physical condition. This is a clever piece of technology that detects your current state of fitness from your heart rate and heart rate variability. It is capable of adjusting your training intensities dynamically in real time while you are training, depending on your actual physical condition. This way you are always given two training zones, that may vary from training session to training session (or sometimes even within a single session), but which are always adapted to your own condition and fitness. This is quite impressive really.
Training at the Fat Burning Zone (at a lower intensity) generally means that fat is the main source of energy during the workout. This is great for those aiming to manage weight. Training at the Fitness Improvement Zone (at a higher intensity) generally means that carbohydrates is the main energy source. Here you are training to strengthen your heart and increase blood circulation, leading to improvement in you cardiovascular fitness.
Again, just like the Polar FT7, the Polar FT40 has given up one feature which may be important to some users. This is the manual setting of BOTH the upper and lower heart rate limits. The Polar FT40 allows you to set an upper limit in your training, but not a lower limit. So if you want train say, exactly between 80% and 90% of your maximum heart rate, you won't be able to set it up on the FT40.
Summary
The Polar FT40
heart rate monitor adds the Polar Fitness Test functionality to help you monitor your long term fitness. It is a simple test that can be done at rest and it is very motivational to see how your fitness improves over time.
It also has a clever piece of technology to work out how best to achieve your training objective: fat burning or fitness improvement. It works out the zones for you to train in based on your personal data and your physical condition. This is excellent for those who are looking for some guidance as to the amount of effort they should put in their training session.
In addition, the Polar FT40 retains all the other major features of the preceding Polar FT7 model, and adds a few other minor improvements as well.
| | |
| --- | --- |
| | This takes you to Amazon for some of the best selections for this model. Certain selections come with FREE Super Saver Shipping. |
Useful Information
Further information: Visit Polar's official web site.

Next up in the Polar FT series is the Polar FT60.

Not sure which heart rate monitor is right for you? Take a look at the Which Heart Rate Monitor page.






---
Copyright 2007-2011 Heart-rate-monitor-watches.com
---