Home > Polar > M21
Polar M21 Heart Rate Monitor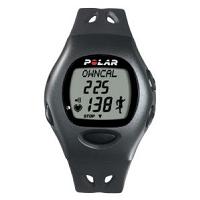 Polar M21 heart rate monitor is designed for beginning and intermediate exercisers.

The main features of the Polar M21 monitor are:
Continuous heart rate monitoring
Manual setting of heart rate training zone (target zone)
OwnZone: Automatic determination of your target zone based on your weight, age, gender and a test of your fitness during warm up
Audio alarm can be set to beep when you train outside of your target zone
View real time data while exercising: Time spent in target zone (so far), calorie count and (of course) your current heart rate
Progress bullets: One bullet per 100 kCal energy consumed
Stop watch to start and stop exercise session
File (data of last session) can be reviewed: Date, total exercise time, time spent in target zone, heart rate limits used for the session, average heart rate, calorie count and % of that due to fat burnt, cumulative total of calorie count and exercise time since last reset
Basic Time Keeping: Time, date and alarm
Backlight
Exercise Reminder: Text message appears 3 days after your last recorded exercise.
Note: The Polar M22 (shown on the right here) is exactly the same as the Polar M21 heart rate monitor but with a more sporty wrist watch fascia/cover.
OwnZone determination of target heart rate training limits are quite useful in that it takes into account how fit you are just before you train. It then sets the heart rate limits appropriately.
Summary
The Polar M21 is an intermediate heart rate monitor with a calorie counter. It also has fairly detailed statistics summarizing the training session. The Polar M21 heart rate monitor should be able meet the needs of many users training for fitness and weight management.
Note: The M21 and M22 models have been superceded, though they may still be available in some internet shops. If you are looking to buy the M21 or M22, you may want to have a look at the current models Polar F4 and Polar F6.
Not sure which heart rate monitor is right for you? Take a look at the Which Heart Rate Monitor page.
---
Copyright 2007-2011 Heart-rate-monitor-watches.com
---