Home > Polar > M71ti
Polar M71ti Heart Rate Monitor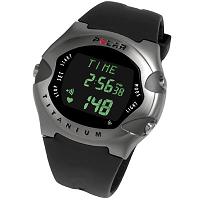 Polar M71ti heart rate monitor is designed for beginning and intermediate exercisers. It has a lightweight and stylish titanium casing and is suitable to be worn as an everyday watch.

The main features of the Polar M71 ti heart rate monitor are:
Continuous heart rate monitoring
Manual setting of heart rate training zone (target zone)
OwnZone: Automatic determination of your target zone based on your weight, age, gender and a test of your fitness during warm up
Audio alarm can be set to beep when you train outside of your target zone
View real time data while exercising: Time spent in target zone (so far), calorie count and (of course) your current heart rate
Stop watch to start and stop exercise session
File (data of last session) can be reviewed: Total exercise time, time spent in target zone, calorie count, cumulative total of calorie count since last reset
Basic Time Keeping: Time, date and alarm
Backlight
Help text: If this feature is switched on, the M71ti will start to give you some hints on what to do next if you start to use the functions and leave the buttons untouched for 5 seconds.
Summary
The Polar M71ti heart rate monitor is an intermediate HRM . Despite its numerical rank, it is not a more advanced heart rate monitor compared to the Polar M21/M22. In fact, it has dropped some features that are present in M21/M22, for example average heart rate of training session, % of calorie consumed due to fat, cumulative exercise time since last reset, progress bullets, exercise reminder etc. It, however, has added a feature called Help text, which is not really necessary once you are familiar with the operation of the watch. However, if you like the light weight and stylish titanium design and want to wear it as an ordinary watch, then do consider it.
Note: The Polar M71 ti model has been superceded, though they may still be available in some internet shops. If you are looking to buy the Polar M71ti, check out the current models Polar F4 and Polar F6.
Not sure which heart rate monitor is right for you? Take a look at the Which Heart Rate Monitor page.
---
Copyright 2007-2011 Heart-rate-monitor-watches.com
---