Home > Sportline > Duo 1060
Sportline Duo 1060 Heart Rate Monitor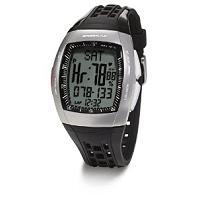 The Sportline Duo 1060 heart rate monitor is currently the most advanced model in the Sportline Duo series. Like all the heart rate monitors in the series it can be used with or without a chest strap. Moreover it comes with a built-in pedometer that measures steps, speed and distance information. You can measure heart rate on demand by putting and holding one finger on the wrist watch sensor. The heart rate measurement will be completed in a few seconds. For continuous heart rate monitoring, you will need to wear the included chest strap. Sportline Duo 1025 is therefore a unique device combining 3 separate pieces of functionality into one unit.

Its main features are:
Strapless (no chest strap), on demand heart rate monitoring
Continuous heart rate monitoring with the use of a chest strap
Heart rate can be displayed as beats per minutes and percentage of your calculated maximum heart rate
Heart rate training zone (manual or automatic)
In the automatic setting of heart rate training zone, you can choose one of the 3 pre-set heart rate zones (based on your own personal data).
There are audible beeps and visual indicators to show you if you are training below or above your heart rate training zone
Intellitrack heart rate visual display
Pedometer
You can view the following workout data: times below/in/above your target heart rate zone, calories burnt, fat burnt, current time, maximum and average heart rates.
You can also view the following pedometer data: speed, distance, steps.
Interval timer: You can set up from 1 to 30 intervals and up to 3 phases per interval. Each phase has its own duration and heart rate limits.
Countdown timer
Stop watch
It records up to 100 laps. For each lap, you can review lap time, average heart rate, steps, distance and speed.
Fitness recovery timer: This can be used to see how fast your heart rate gets back to normal levels after a workout.
7 Workout Memory: You can view detailed feedback from the last 7 workouts.
Basic time keeping: time, day of the week, date, daily alarm, hourly chime (on/off), dual time zone
Key beep (on/off)
Heart rate lock: It prevents accidental finger touch acquisition of heart rate.
Backlight
The features printed in bold are found in the Sportline Duo 1060 model but not in the preceding Duo 1025 model. There is also a version of the Sportline Duo 1060 for women. It has essentially the same features as listed above. See the photo below.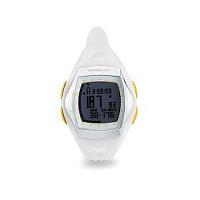 Comments
The Sportline Duo 1060 heart rate monitor adds 3 main pieces of functionality to the Sportline Duo 1025 model. The first addition is the pedometer. This gives the user speed, distance and steps information. The second addition is the interval timer. It is flexible and allows you to structure your training in specific ways. The last main addition is the fitness recovery timer. It allows you to see how fast your heart rate gets back to normal after exercise. Obviously the faster it gets back to normal the better your fitness is. The wrist watch now offers a really comprehensive set of data for you to review, both during and after your workout.
During the set up phase, you are required to set up your personal profile such as gender, year of birth, height, weight, activity level, walking stride, running stride to ensure that the calorie, maximum heart rate, and pedometer speed and distance calcuations are accurate.
The pedometer can also have its sensitivity adjusted. You can also adjust a "sleep time" i.e. a time after which the pedometer will be deactivated if no activity is detected.
Summary
The Sportline Duo 1060
is a versatile heart rate monitor offering both continuous heart rate monitoring with chest strap or finger touch on-demand heart rate measurement. In addition it incorporates a built-in pedometer for walkers who are interested in speed, distance and steps information. It allows you to review many useful training data and stores 7 sessions' worth of it. It has many timers: stop watch (count up timer), count down timer, interval training timer, and heart rate recovery timer. It should be able to satisfy the needs of many different types of exercisers and training occasions.
| | |
| --- | --- |
| | This takes you to Amazon for some of the best selections for this model. Certain selections come with FREE Super Saver Shipping. |
Useful Information
Further information: Visit Sportline's official web site.

Not sure which heart rate monitor is right for you? Take a look at the Which Heart Rate Monitor page.






---
Copyright 2007-2011 Heart-rate-monitor-watches.com
---