Home > Suunto > X6HR
Suunto X6HR Heart Rate Monitor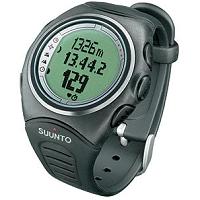 The Suunto X6HR heart rate monitor combines heart rate monitoring with an altimeter, barometer and a compass, just like the Suunto Advizor. It is a newer model than the Advizor and comes with various improvements, most notably the ability to interface with PC software. It can also sample heart rate (for recording) at much higher frequency than the Suunto Advizor. It is also easier to navigate, with its cell phone like menu interface. Its primary audience is outdoor enthusiasts who are into downhill skiing, cross country skiing, mountain climbing, hiking etc and who also would like to have their heart rate measured and recorded along the way. For example, it has got some heart rate sampling facilities which record your heart rate, rate of ascent/descent, altitude and a host of other information at set intervals automatically. You can then review them in detail later on. This unit is a very specialist device intended for someone who really knows why he/she wants the various altimeter, barometer and compass functionalities. There are 3 versions of this watch available, differing only in the type of housing: X6HR (composite housing), X6HRM (stainless steel housing), X6HRT (titanium housing).

The main features of the Suunto X6HR heart rate monitor are:
Altimeter: Altitude, vertical speed, altitude alarm, ascent/descent alarm, logbook, altitude difference, online cumulative ascent, alti/baro lock
Barometer: Sea level pressure, absolute pressure, weather trend graph, temperature, 48-hour memory, weather alarm, alti/baro lock
Compass: Bearing, graphic compass rose display, bearing tracking, declination setting
Continuous heart rate monitoring
You can set heart rate training limits
You can set a tone to beep when you train above/below your limits
Stop watch
In stop watch mode, the unit records your heart rate and the altitude at fixed intervals to build a profile memory: The heart rate sampling (recording) interval can be chosen from 2s, 10s and 60s.
Two segment Interval timer with repeats
You can take laps with no limits as to how many can be stored (subject to total memory available in the watch of course)
Post-exercise summary: Duration and number of laps, average, minimum and maximum heart rate, time spent below/in/above target zone , other heart rate information and graphical representations of heart rate
Cell phone-like menu based user interface
PC Software (Suunto Activity Manager). Cable included for data download to the PC for analysis.
Basic time keeping: Time (2 time zones), date, 3 alarms
Backlight
Button lock
Both chest strap and wrist watch batteries are user replaceable
Analogue wireless transmission with chest strap
Water resistant up to 100m for wrist watch and up to 20m for transmitter chest strap
Summary
The Suunto X6HR heart rate monitor is a combo device consisting of an altimeter, a barometer, a compass and a heart rate monitor. It has advanced functionality for its altimeter, barometer and compass features. It also has the Suunto Activity Manager, a PC software, which allows you to revisit your log and check the heart rate profile of your training and create charts and do comparisons etc.
| | |
| --- | --- |
| | This takes you to Amazon for some of the best selections for this model. Certain selections come with FREE Super Saver Shipping. |
Useful Information
Reviews: This page has a concise summary of Suunto heart rate monitor reviews.
Further information: Visit Suunto's official web site.

Not sure which heart rate monitor is right for you? Take a look at the Which Heart Rate Monitor page.






---
Copyright 2007-2011 Heart-rate-monitor-watches.com
---