Home > Ekho > E-351
Ekho E-351 Heart Rate Monitor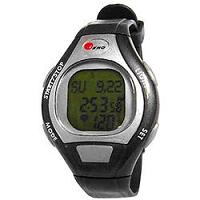 Ekho E-351 heart rate monitor is an intermediate heart rate monitor. The E-351 builds on the E-300 and has 2 additional features over the E-300.

The main features of the E-351 are listed below:
Continuous heart rate monitoring
You can manually set the upper and lower limits of your heart rate training zone.
You can get E-351 to set your training zone automatically for you. Choose one from five possible zones: Light, Fat, Base, Cardio and Red depending on what you plan to do for the session.
You hear audible alerts when your heart rate goes outside of your heart rate zone.
More refined calculation of your calories burnt via the use of 6 Activity Modes
Countdown Timer: This is just an ordinary timer that beeps after a set amount of time.
You get a 60 Lap Counter.
Stop watch to start and stop your exercise session
Post exercise summary: Duration, time above/in/below target zone, average heart rate, maximum heart rate and calories burnt of the exercise session
Cumulative totals of calories burnt and exercise time
Basic time keeping: Time, date but no wake up alarm
Backlight
Wireless heart rate monitor (ECG accurate) with an analogue chest strap transmitter and a wrist watch receiver
The features in bold above denote the features found in E-351 but not in E-300. To save space, please refer to the E-300 page for details about the shared features.
Let's review some of the important additional features found in E-351 but not in E-300.
The E-351 introduces the additional Activity Mode for Cycling, to complement the five pre-existing Activity Modes found in E-300: Walking, Hiking, Jogging, Running and Aerobic. This will help the heart rate monitor refine its calculation of your calorie consumption, if you happen to be riding a bike in your training.
More importantly for runners, you get a 60 lap counter. For each lap, you can review your split time, lap time and average heart rate for each lap. Now you can track your splits while doing track work or running a road race.
Note: The E-351 can interface with heart rate interactive exercise equipment. You can replace the battery for the chest strap transmitter yourself but not for the wrist watch unit.
Summary
The Ekho E-351 is an enhanced version of the E-300 and includes all the features of the E-300. It is especially useful for runners interested in recording splits while training or racing. It is the top model in Ekho's E-series of heart rate monitors.
Useful Information
Reviews: This page has a concise summary of Ekho heart rate monitor reviews.
Further information: Visit Ekho's official web site.

Not sure which heart rate monitor is right for you? Take a look at the Which Heart Rate Monitor page.






---
Copyright 2007-2011 Heart-rate-monitor-watches.com
---