Home > Ekho > E-300
Ekho E-300 Heart Rate Monitor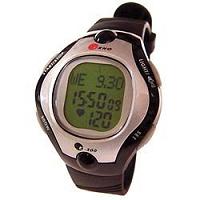 Ekho E-300 heart rate monitor is an intermediate heart rate monitor with a few additions over the Ekho E-15.

The main features of the E-300 are listed below:
Continuous heart rate monitoring
You can manually set the upper and lower limits of your heart rate training zone.
You can get E-300 to set your training zone automatically for you. Choose one from five possible zones: Light, Fat, Base, Cardio and Red depending on what you plan to do for the session.
You hear audible alerts when your heart rate goes outside of your heart rate zone.
More refined calculation of your calories burnt via the use of Activity Mode
Countdown Timer: This is just an ordinary timer that beeps after a set amount of time.
Stop watch to start and stop your exercise session
Post exercise summary: Duration, time above/in/below target zone, average heart rate, maximum heart rate and calories burnt of the exercise session
Cumulative totals of calories burnt and exercise time
Basic time keeping: Time, date but no wake up alarm
Backlight
Wireless heart rate monitor (ECG accurate) with an analogue chest strap transmitter and a wrist watch receiver
The features in bold above denote the features found in E-300 but not in E-15. To save space, please refer to the E-15 page for details about the shared features.
Let's look at some of the important additional features found in E-300.
The Ekho E-300 can now set your training zone automatically. All you have to do is to input your age, gender, weight and how intense you want your session to be, and the E-300 does the calcuation and works out the optimum training limits for you. If the main aim of your current session is to burn as much fat as possible, then choose Fat from the five possible zones. If you just want to do very easy running today, then choose Light. And so on.
Now you can help the E-300 to calculate your calorie consumption more accurately than before. Before your exercise, you choose one of the following Activity Modes: Walking, Hiking, Jogging, Running and Aerobic. Choose the one that most closely corresponds to what you are going to do. The E-300 now knows what you are doing and will come up with a better estimate of your calorie consumption (which is of course also based on your weight, sex, exercise duration and heart rates).
In the post exercise summary, you can also see how much time you spent above, in and below your target heart rate training zone. You shouldn't have spent much time above and below your zone. But if you did, you would know.
The Ekho E-300 also keeps cumulative totals of calories burnt and exercise duration since your last reset. For example, if you last reset these totals 2 sessions ago, the E-300 will tell you the combined calories burnt and the combined time spent for your last 2 sessions. Reset them and the E-300 starts accumulating the statistics from zero again.
Note: The E-300 can interface with heart rate interactive exercise equipment. You can replace the battery for the chest strap transmitter yourself but not for the wrist watch unit.
Summary
The Ekho E-300 has neat features. For example, the automatic setting of your target heart rate zone does the thinking for you. You don't have to choose the heart rate limits yourself. The improved calorie counter is good too, but it can get a little tedious since you have to choose an activity mode before each workout. Lastly, the time spent above/in/below your target zone is useful information to have to see if you have been training as you intended.
Useful Information
Reviews: This page has a concise summary of Ekho heart rate monitor reviews.
Further information: Visit Ekho's official web site.

The next model in the E-series is the Ekho E-351 heart rate monitor.

Not sure which heart rate monitor is right for you? Take a look at the Which Heart Rate Monitor page.






---
Copyright 2007-2011 Heart-rate-monitor-watches.com
---