Home > Ekho > WM-5
Ekho WM-5 Heart Rate Monitor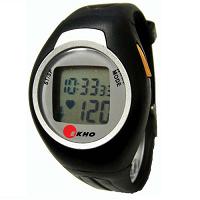 Ekho WM-5 heart rate monitor is a member of Ekho's series of weight management heart rate monitors.

Here are the main features of WM-5:
Continuous heart rate monitoring
Calories burnt and calories count down timer
Basic time keeping: Time and date, no alarm
Wireless heart rate monitor (ECG accurate) with an analogue chest strap transmitter and a wrist watch receiver
The WM-5 does not have these basic features:
Heart rate training limits
Duration, average heart rate, maximum heart rate of exercise session
Backlight
The WM-5 has one novel feature: the calories count down timer. This feature allows you to set your calorie consumption goal prior to your exercise. The timer will alert you when you have burned your specified amount of calories during your exercise. The WM-5 works out your calories burnt using 4 pieces of information: Your weight, your gender, the session duration and your heart rates while you were exercising.
Note: The WM-5 can interface with heart rate interactive exercise equipment. You can replace the battery for the chest strap transmitter yourself but not for the wrist watch unit.
Summary
Just like the Ekho E-10, the WM-5 is a basic and simple heart rate monitor. The main difference between them is that the WM-5 has calories counting ability to help you with your weight management goals.
Useful Information
Reviews: This page has a concise summary of Ekho heart rate monitor reviews.
Further information: Visit Ekho's official web site.

The next one up in the WM series is the Ekho WM-25 heart rate monitor.

Not sure which heart rate monitor is right for you? Take a look at the Which Heart Rate Monitor page.






---
Copyright 2007-2011 Heart-rate-monitor-watches.com
---