Home > Mio > Shape Elite
Mio Shape Elite Heart Rate Monitor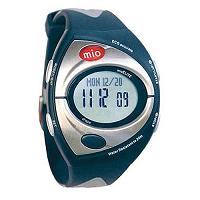 The Mio Shape Elite heart rate monitor is a simple strapless ECG accurate heart rate monitor. Without a chest strap transmitter, it requires that you put two fingers on the sensors on the wrist watch to measure your heart rate. Hence it measures heart rate on demand, rather than continuously. It is one model up from the Mio Shape model.

Its main features of Mio Shape Elite are:
Strapless (no chest strap), on demand heart rate monitoring
Heart rate displayed as beats per minutes and percentage of your maximum heart rate
Calories consumption during exercise calculated based on age, gender and weight etc and heart rate readings
Additional calorie management facilities such as daily calorie target, net calories in and weekly weight change goal
Automatic calculation of daily calorie target using your age, gender, weight, resting heart rate, activity level and weekly weight change goal. This can also be manually set if required.
Countdown timer with 3 timer modes
Heart rate recovery measurement
Stop watch with basic lap/split time functionality
Basic time keeping: time, date, 2 daily alarms (if set), hourly chime (if set)
Backlight
Note that the features in bold above show the features found in Mio Shape Elite but not in Mio Shape.
The Mio Shape Elite heart rate monitor has a number of calorie management facilities. First you can set your own daily calorie target. This target amount can be set automatically based on your personal data and weekly weight change goal (for example to gain 1 lb). You can adjust it further if you wish.
If you then eat something, you input its calorific amount into the watch. This amount (net calories in) is accumulated, depending on how many meals/snacks you have had during the day. The net calories in will show up against your daily calorie target in the form of bars. There are six bars in total, with 1 bar representing about one sixth of target. So when you have reached or exceeded your daily calorie target, fully six bars will show up on the wrist watch.
This allows you to see, as you eat throughout the day, whether you are approaching your target daily amount or are beginning to exceed it. Note that if you exercise, your exercise calorie burnt amount is automatically deducted from your net calories in. For example, if you have just burnt 300 calories in your exercise, you net calories in will be reduced by 300, so you can afford to eat more (for the day) before reaching your daily target. At the end of the day, you reset the net calories in and the next day, you start counting afresh.
Obviously you don't need to use all these calorie management facilities. But they are there for you if you choose to use them.
| | |
| --- | --- |
| | This takes you to Amazon for some of the best selections for this model. Certain selections come with FREE Super Saver Shipping. |
You can use the countdown timer in 3 ways:
Countdown to zero and stop
Countdown to zero and repeat
Dual (Walk/Run) timer
The Countdown to zero and stop timer is the simplest. When the timer counts to zero, it beeps twice and that is it.
With the Countdown to zero and repeat timer, the timer beeps when it counts to zero, but then it restarts again and the cycle goes on.
The Dual timer is useful for interval training. You set 2 timers of different durations, say one for 3 minutes (for walking) and the other for 2 minutes (for running). When you start the timer, you walk. When 3 minutes is up, it beeps and you start to run. After you have run for 2 minutes, the timer beeps again. And you begin to walk. And so the cycle repeats.
You can also test your heart rate recovery. The idea is that immediately after your exercise, the speed with which your heart rate drops back to normal is a sign of how fit you are. To do this test, the Mio Shap Elite takes your first heart rate, countdowns down 55 secs, and then takes your second heart rate. It then looks at your heart rate difference and shows you what it thinks of your recovery:
Poor: < 12 bpm
Fair: 12 - 30 bpm
Good: 31 - 50 bpm
Excellent: > 50 bpm
It is a motivational tool as you should be able to see your progress as you get fitter.
Summary
The Mio Shape Elite heart rate monitor builds on the Mio Shape models. It offers an additional tool in its calorie management facilities: the weekly weight change goal. It also offers 3 types of timer, and heart rate recovery measurment.
| | |
| --- | --- |
| | This takes you to Amazon for some of the best selections for this model. Certain selections come with FREE Super Saver Shipping. |
Useful Information
Reviews: This page has a concise summary of Mio heart rate monitor reviews.
Further information: Visit Mio's official web site.

Not sure which heart rate monitor is right for you? Take a look at the Which Heart Rate Monitor page.






---
Copyright 2007-2011 Heart-rate-monitor-watches.com
---