Home > Mio > Ultimate
Mio Ultimate Heart Rate Monitor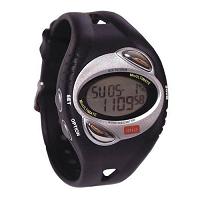 The Mio Ultimate heart rate monitor is an unusual monitor. It can be used with or without a chest strap. When used without a chest strap, it requires that you put two fingers on the sensors on the wrist watch to measure your heart rate. Hence it measures heart rate on demand, rather than continuously. However, if you have an analogue uncoded chest strap, it can be used instead to give you continuous heart rate monitoring. The Mio Ultimate is one model up from the Mio Shape Elite model.

Note that this model does not necessarily come with a chest strap. Some retail packages include one, some do not, so do check if you require one.

Its main features are:
Strapless (no chest strap), on demand heart rate monitoring
Continuous heart rate monitoring with the use of a chest strap
Heart rate displayed as beats per minutes and percentage of your maximum heart rate
Manual setting of your heart rate training zone
Audible beeps and visual indicators show you when you are training below or above your heart rate training zone
Exercise calorie target
Calories consumption during exercise calculated based on gender, weight, age and heart rate readings
Fat burnt in lb or kg calculated
Average and maximum heart rates during exercise calculated/recorded
Time spent during exercise above/below/in your target heart rate training zone displayed
Auto repeating countdown timer
Heart rate recovery measurement
Stop watch
Record up to 16 laps
You can review individual lap time, average lap time and total lap time.
Basic time keeping: time, date, daily (or a specific weekday) alarm
Backlight
Note: The features in bold above show the features found in Mio Ultimate but not in Mio Shape Elite. The Mio Ultimate has also dropped some features from the Mio Shape Elite, those related to calorie management and 2 types of countdown timers.
| | |
| --- | --- |
| | This takes you to Amazon for some of the best selections for this model. Certain selections come with FREE Super Saver Shipping. |
With the Mio Ultimate heart rate monitor you can now set a heart rate training zone, which is important if you are monitoring your heart rate continuously using a chest strap. Audible and visual alerts help you stay within your zone.
The Mio Ultimate lets you set an exercise calorie target. When you are exercising, the wrist watch displays one bar if you have burned one third of your target calories, two bars if you have burned two thirds of target calories and three bars if you have reached or exceeded your target. Another novelty is that you can also see your approximate amount of fat being burnt in terms of lb or kg.
You now also have a much better review of how your session went. You can see your average and maximum heart rates of the session, and time spent above/below/in your target zone.
With the auto repeating countdown timer, the timer beeps when it counts to zero, but then it restarts again and the cycle goes on.
You can also test your heart rate recovery. The idea is that immediately after your exercise, the speed with which your heart rate drops back to normal is a sign of how fit you are. The Mio Ultimate now offers you two ways to test this.
Finally for runners, you can now take up to 16 lap measurements when you train. You will be able to review your stats later on when you have finished.
Summary
The Mio Ultimate heart rate monitor lets you monitor your heart rate with or without a chest strap. For certain sports, it is best to use a chest strap, whereas for others, this may not be a problem. You get to choose. This is the most advanced of Mio's heart rate monitors, though some of the features related to calorie management seem to have been dropped from Mio Shape Elite. Therefore the Mio Ultimate is probably more suitable for exercisers using a heart rate monitor not for weight management reasons.
| | |
| --- | --- |
| | This takes you to Amazon for some of the best selections for this model. Certain selections come with FREE Super Saver Shipping. |
Useful Information
Reviews: This page has a concise summary of Mio heart rate monitor reviews.
Further information: Visit Mio's official web site.

Not sure which heart rate monitor is right for you? Take a look at the Which Heart Rate Monitor page.






---
Copyright 2007-2011 Heart-rate-monitor-watches.com
---