Home > Oregon Scientific > HR102
Oregon Scientific HR102
Heart Rate Monitor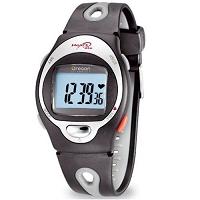 Oregon Scientific HR102 heart rate monitor is an entry level heart rate monitor.

Here are the main features of the HR102:
Continuous heart rate monitoring
You can manually set your heart rate training zone
You can set an alarm to alert you when you are training above or below your heart rate zone limits
Stop watch
Basic time keeping: Time, date and alarm
Backlight
Wireless heart rate monitor (ECG accurate) with an analogue chest strap transmitter and a wrist watch receiver
Battery for chest strap transmitter is user-replaceable.
It can work with gym equipment (e.g. treadmills) capable of picking up your transmitter's signals to show your heart rate on the equipment's display panel
Bike handle bar mounting bracket
The HR102, however, does not have the following basic features: Average heart rate, maximum heart rate of exercise session.
Beyond merely showing your current heart rate, the HR102 allows you to set your heart rate training limits with a zone alarm. This is a simple yet important feature for you if you want to train effectively.
Summary
The Oregon Scientific HR102 is a simple heart rate monitor for beginning heart rate monitor users.
Note that the HR102 bears an uncanny resemblance to the Omron HR-100C heart rate monitor. They may well be, under the skin, the same watch. The reasons are:
They have identical features.
They have the exact same set of buttons and operate in the exact same way.
They share near identical appearances, except for the logos.
Please note that this is just a speculation.
So if you are interested in buying this model, check out the Omron HR-100C too because it is one of the best selling heart rate monitors on Amazon, with over 660 reviews (as of Aug 2010).
| | |
| --- | --- |
| | This takes you to Amazon for some of the best selections for this model. Certain selections come with FREE Super Saver Shipping. |
Useful Information
Reviews: This page has a concise summary of Oregon Scientific heart rate monitor reviews.
Further information: Visit Oregon Scientific's official web site.

The next model in the HR series is the Oregon Scientific HR308 heart rate monitor.

Not sure which heart rate monitor is right for you? Take a look at the Which Heart Rate Monitor page.






---
Copyright 2007-2011 Heart-rate-monitor-watches.com
---