Home > Oregon Scientific > HR308
Oregon Scientific HR308
Heart Rate Monitor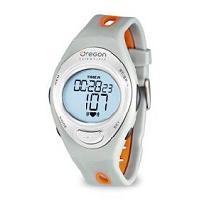 Oregon Scientific HR308 (Smart Trainer) heart rate monitor is the next monitor up from the Oregon HR102 within the HR series. It has introduced a number of additional features (indicated in bold in the list below), compared to the HR102. The HR308 is an intermediate heart rate monitor.

Here are the main features of the Oregon Scientific HR308:
Continuous heart rate monitoring
You can manually set your heart rate training zone
You can set an alarm to alert you when you are training above or below your heart rate zone limits
You can also get the watch to set your heart rate training zone automatically for you.
You can do two types of training: Smart Training Program and ordinary stop watch based training
Calorie consumption and % of calore consumption due to fat being burnt: You can check them real-time and post-exercise.
Stop watch
You can recall stop watch duration, time in target zone, average heart rate.
Basic time keeping: Time, date and alarm. Two time zones.
Backlight
Wireless heart rate monitor (ECG accurate) with an analogue chest strap transmitter and a wrist watch receiver
Batteries for chest strap transmitter and wrist watch unit are user-replaceable.
It can work with gym equipment (e.g. treadmills) capable of picking up your transmitter's signals to show your heart rate on the equipment's display panel
Smart Training
With Smart Training, the Oregon Scientific HR308 heart rate monitor suggests heart rate limits for your session based on your gender, age, weight, height, activity score and target activity level. You will also have to specify your intended exercise duration.

But let me first explain what activity score and target activity level is.

Activity score: This is a self-identified measure of how active you are. It has 3 values ranging form 0 to 2:
0 = You don't normally exercise much.
1 = You exercise 2 or 3 times a week requiring modest exertion.
2 = You take part regulary and actively in sports requiring heavy exertion.


Target activity level gives an indication of the intensity of your current exercise. The HR308 will present you with relevant choices.

This make sense when you think about it. It is fair enough that your suggested heart rate training limits depend on your physical profile: sex, age, weight and height. They also depend on how fit you currently are i.e. activity score. Furthermore they obviously depend on how intense you want your exercise to be.

So now we understand why the Oregon Scientific HR308 asks you so many questions before deciding on your heart rate training limits. However, you only have to input your personal profile (sex, age, weight and height and activity score) once instead of every time you train.

Before you start your Smart Training, all you need to do is to input your target activity level and your intended exercise duration. This makes things a lot simpler and quicker to get started.

You press a button to start. First you do a 5 minute warm up. You get 3 beeps when 5 minutes are up. You then do your main exercise. You get 3 beeps again when your set exercise time is reached.

At the end of your exercise, you get to review your calories consumed and % of fat burnt.

That is it. This is the gist of Smart Training. It is effectively a combination of automatic heart rate limits determination and a countdown timer.
Ordinary stop watch-based training
This is quite similar to Smart Training, except that you do not set an exercise duration. You still need to set the target actvity level and the software will come up with the suggested heart rate limits for you. However, you now control the exercise duration by starting and stopping the stopwatch.

At the end of your exercise, you get to review your exercise duration, time in target zone, average heart rate, calories consumed and % of fat burnt.
Summary
In short, compared to the preceding model HR102, the Oregon Scientific HR308 has introduced automatic calculation of heart rate limits. You can train with a timer (Smart Training) or with a stop watch. You get better review of your training data: calories, % fat burnt, time in target zone, average heart rate etc.
Note: For this particular monitor, Oregon has not produced a particularly clear user manual. That is a common complaint among existing users. You will probably need to experiment with it for a while to figure out how it all hangs together. Check out the user reviews on Amazon.
Useful Information
Reviews: This page has a concise summary of Oregon Scientific heart rate monitor reviews.
Further information: Visit Oregon Scientific's official web site.

The next monitor up in the Oregon Scientific HR series is the HR318.

Not sure which heart rate monitor is right for you? Take a look at the Which Heart Rate Monitor page.






---
Copyright 2007-2011 Heart-rate-monitor-watches.com
---