Home > Oregon Scientific > HR318
Oregon Scientific HR318
Heart Rate Monitor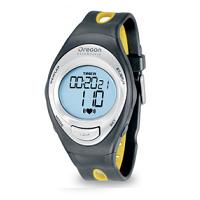 Oregon Scientific HR318 (Smart Trainer Pro) heart rate monitor is the next monitor up from the Oregon HR308 within the HR series. It is essentially the same monitor as the HR308 and can, in addition, mark laps and so will be particularly useful for runners. The HR318 is an intermediate heart rate monitor.

Here are the main features of the Oregon Scientific HR318:
Continuous heart rate monitoring
You can manually set your heart rate training zone
You can set an alarm to alert you when you are training above or below your heart rate zone limits
You can also get the watch to set your heart rate training zone automatically for you.
You can do two types of training: Smart Training Program and ordinary stop watch based training
Calorie consumption and % of calore consumption due to fat being burnt: You can check them real-time and post-exercise.
Stop watch
You can mark laps (up to 44 in total)
You can recall stop watch duration, time in target zone, average heart rate.
Basic time keeping: Time, date and alarm. Two time zones.
Backlight
Wireless heart rate monitor (ECG accurate) with an analogue chest strap transmitter and a wrist watch receiver
Batteries for chest strap transmitter and wrist watch unit are user-replaceable.
It can work with gym equipment (e.g. treadmills) capable of picking up your transmitter's signals to show your heart rate on the equipment's display panel
The features in bold above denote the features found in HR318 but not in HR308.
To save space, please refer to the HR308 page for a short explanation of the Smart Training Program and other common features shared between the HR318 and HR308.
Marking laps while using the stop watch
You can also take laps during your stop watch based training and review the following information for each lap: exercise duration, time in target zone, average heart rate, calories consumed and % of fat burnt. You can store up to 44 laps in total. So you get a really comprehensive review of how you have done in your training.
Summary
In short, compared to the preceding model HR308, the Oregon Scientific HR308 has brought in lap marking functionality for runners. Otherwise it has all the features of the HR308 model.
Note: For this particular monitor, Oregon has not produced a particularly clear user manual. That is a common complaint among existing users. You will probably need to experiment with it for a while to figure out how it all hangs together. Check out the user reviews on Amazon.
Useful Information
Reviews: This page has a concise summary of Oregon Scientific heart rate monitor reviews.
Further information: Visit Oregon Scientific's official web site.

Not sure which heart rate monitor is right for you? Take a look at the Which Heart Rate Monitor page.






---
Copyright 2007-2011 Heart-rate-monitor-watches.com
---