Home > Polar > A3
Polar A3 Heart Rate Monitor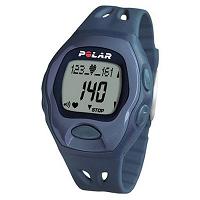 Polar A3 heart rate monitor is a basic heart rate monitor designed for general use and fitness training.

The main features of the A3 monitor are:
Continuous heart rate monitoring
Manual setting of heart rate training zone (target zone)
Automatic age-based setting of target zone (65 to 85 % of your maximum heart rate)
Heart rate can be set and displayed as BPM or % of Max HR
Audio alarm to keep you training within your target zone
Fitness bullets: One per 10 minutes in target zone (a rough way of showing time in target zone)
Stop watch to start and stop exercise session
Post-exercise summary: Duration, average heart rate, time in target zone
Basic Time Keeping: Time, date and alarm
The Polar A3 heart rate monitor represents a major improvement over the Polar A1. A1 is a bare minimum heart rate monitor. A3 is almost an intermediate heart rate monitor. It is a big jump.
The A3 introduces the concept of heart rate training zone (automatic and manual) with zone alarm to keep you training within range. It can display your current heart rate as a percentage of your maximum heart rate, and measures the time you spent in target zone in your exercise session.
It is now also a full featured watch. In contrast the Polar A1 cannot even tell the time, let alone allowing you to set the date or alarm.
Summary
The Polar A3 heart rate monitor is a really good monitor for fitness training. Its features are considerably more advanced than its preceding model, the Polar A1. It can easily meet the needs of beginning users of heart rate monitors or experienced exercisers looking for a simple to use heart rate monitor.
The next model up in the Polar A series is the Polar A5.
Note: The A3 has been discontinued by Polar i.e. Polar no longer makes it, though it may still be available in some internet shops. If you are looking to buy the A3, you may want to have a look the similar models Polar FS3 and Polar F4 in the current Polar fitness range. Their capabilities are broadly similar.
The table below summarises the main differences between FS3, A3 and F4.
| | | | |
| --- | --- | --- | --- |
| | FS3 | A3 | F4 |
| HR set and displayed in % of Max HR | No | Yes | Yes |
| Visual indicator when training outside zone limits | Yes | No | Yes |
| Max HR achieved in training session | Yes | No | Yes |
| Time spent in target zone | No | Yes | Yes |
| Calories burnt | No | No | Yes |
| Cumulative statistics | No | No | Yes |
| Ordinary wake up alarm | No | Yes | Yes |
| Backlight | Yes | No | No |
The Polar F4 has the Exercise Reminder and UpLink features. They are not very important for most users and so are left out of the comparison table.
Not sure which heart rate monitor is right for you? Take a look at the Which Heart Rate Monitor page.
---
Copyright 2007-2011 Heart-rate-monitor-watches.com
---