Home > Polar > A5
Polar A5 Heart Rate Monitor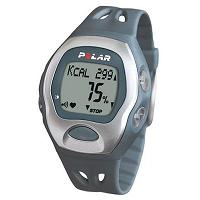 Polar A5 heart rate monitor is an intermediate heart rate monitor designed for general use and fitness training.

The main features of the Polar A5 heart rate monitor are:
Continuous heart rate monitoring
Manual setting of heart rate training zone (target zone)
Automatic age-based setting of target zone (65 to 85 % of your maximum heart rate)
Heart rate can be set and displayed as BPM or % of Max HR
Audio alarm to keep you training within your target zone
Instant (and post-exercise) display of calories burnt
Fitness bullets: One per 10 minutes in target zone (a rough way of showing time in target zone)
Stop watch to start and stop exercise session
Post-exercise summary: Duration, average heart rate, time in target zone, calories burnt, BMI, WalkIndex
Basic Time Keeping: Time, date and alarm
Backlight
Self Walk Test: 1.24 mile (2 km) brisk walk to measure cardiorespiratory fitness. The end result is a number called WalkIndex
The Polar A5 is a heart rate monitor which builds on the Polar A3. For comparison purposes I have bolded the features that the A5 has in addition to those of the A3.
The A5 now shows you how many calories you have burnt, allowing you to set a calorific goal for your training session.
The A5 is also capable of calculating your Body Mass Index (BMI), which gives a measure of whether you are overweight or underweight. Here is how you are supposed to interpret BMI:
| | |
| --- | --- |
| BMI | Interpretation |
| < 18.5 | Underweight |
| 18.5 - 24.9 | Normal Weight |
| 25.0 - 29.9 | Overweight |
| >= 30 | Obesity |
Note that the BMI can't tell the difference between muscular and fat tissues. If you have a high BMI, don't necessarily interpret that you are fat, as the bulk of your mass may well be due to muscles!
You can also do a Self Walk Test to measure your cardiorespiratory fitness. The result of the test is known as a WalkIndex. When you start the test, you are asked to do a walk for 1.24 miles. Polar A5 monitors your heart rate while you are walking. At the end of it, you get a number, the WalkIndex, which tells you how fit you are. It is really simple. The WalkIndex is comparable, in interpretation, to the VO2 Max.
The A5 is also equipped with a backlight for when you are training in relative darkness.
Summary
The Polar A5 heart rate monitor gives you high end features like measuring your BMI and WalkIndex (VO2 Max). These numbers are useful indicators of your overall shape and fitness. These plus the calories burnt feature means that the Polar A5 heart rate monitor will meet the needs of many users training for fitness and weight management.
Note: Polar has also discontinued the A5 model i.e. Polar no longer makes it, though it may still be available in some internet shops. If you are looking to buy the A5, you may want to have a look the current models Polar F4, Polar F6 and Polar F11.
Not sure which heart rate monitor is right for you? Take a look at the Which Heart Rate Monitor page.
---
Copyright 2007-2011 Heart-rate-monitor-watches.com
---