Home > Polar > CS200cad
Polar CS200cad Heart Rate Monitor Cycling Computer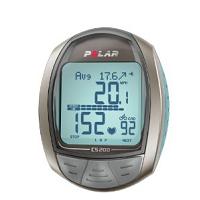 The Polar CS200cad (Polar CS200) is an intermediate cycling heart rate monitor with a number of features specifically desgined for cycling training. It is the next model in the Polar's CS series of models, after the CS100. There are two Polar CS200 packages: CS200cad and CS200. The Polar CS200cad package includes the following parts: Cycling computer, Polar bike mount, Polar speed sensor, Polar cadence sensor and Polar coded transmitter. Note that the Polar CS200 package does not include the cadence sensor. The Polar CS200cad is currently the standard package.

Note: In the list below BPM stands for Beats per Minute and % of Max HR stands for Percentage of Maximum Heart Rate.

The main features of the Polar CS200cad heart rate monitor are:
Continuous heart rate monitoring from the wireless chest strap using coded analogue wireless transmission
You can set heart rate limits during your training if required. You can do so manually or automatically (OwnZone).
Polar CS200 can perform an automatic determination of your heart rate training zone called OwnZone. It is based on how fit you are on the day of your exercise.
You can have your heart rate displayed as BPM or % of Max HR
The cycling computer beeps and the heart rate value flashes when you train above or below your target zone
Stop watch: Use it to start and stop exercise recording/session. Alternatively you can use AutoStart.
AutoStart: If this feature is switched on, exercise recording will start and stop when you start and stop cycling.
The following information can be viewed while cycling: ridden distance, trip distance, riding speed, cadence, heart rate, average speed, calories burnt, exercise duration, estimated time of arrival, time of day, heart rate limits, time in target zone, current rate of calories burnt, cycling intensity, lap time, split time and more. This information is not displayed all on a single screen but distributed over several screens. You can move from screen to screen by pressing a button. Note: The estimated time of arrival feature requires that you first set the distance you are going to ride. The cycling computer then estimates the time you are going to arrive according to your riding speed.
The Polar cycling computer can store lap and split time. Lap time is elapsed time for one lap. Split time is total elapsed time from the start. You can store up to 50 laps in total. You can also see your average heart rate in a given lap.
AutoLap: If this feature is switched on, the cycling computer automatically records laps when you reach a set distance e.g. 1 km or 1 mile.
Short post-exercise summary: Duration, average heart rate, heart rate zone limits, time in target zone, calories burnt, average speed, average cadence, ridden distance, ride time.
Stores up to 7 Files (exercise summaries)
Full post-exercise summary (File): File number, date and time started, duration, average heart rate, maximum heart rate, target zone limits, time in, above, below target zone, calories burnt, distance, average speed, maximum speed, average cadence, maximum cadence, ride time, detailed lap information (see next bullet point)
You can review total number of laps, best lap time and number. For each lap, you see the lap number, split time, lap time, average heart rate, maximum heart rate, speed when lap was recorded, average speed, average cadence, lap distance, split distance.
You can view various Total Values on a seasonal basis (i.e. since your last reset). You can see the following totals: date when cumulation started, total exercise duration, total calories burnt, odometer 1, odometer 2, ridden distance 1, ridden distance 2, max speed, max cadence and total ride time. Note: You can set up the computer for 2 bikes. The 1 and 2 above indicate to which bike the quantity refers.
Two alternating timers are provided.
Basic time keeping: Time, date
You need to enter personal settings such as weight, height, date of birth and sex to help ensure accurate feedback on your performance e.g. calorie consumption. You can also override the defaults for maximum heart rate and sitting heart rate.
The Bike mount is used to attach the cycling computer securely on to the bike.
The wireless speed sensor measures speed and distance while you are cycling.
The Polar WearLink coded transmitter is included.
The Polar cadence sensor measures the speed at which you turn the pedals of your bicycle. It is included in the CS200cad package but optional in the CS200 package.
Backlight
The Polar UpLink tool can be used to edit cycling computer settings on a PC and then transfer the data from the PC to the cycling computer. It requires a Windows PC with a sound card and loudspeakers or headphones.
Polar SonicLink feature and Polar WebLink software allow you to transfer your training files to your personal training diary on polarpersonaltrainer.com. It requires a Windows PC with a sound card and a microphone.
The differences between the Polar CS200cad and CS100 models are highlighted in bold in the list above. Bold in black means those features are found in Polar CS200cad but not in CS100.
Summary
The Polar CS200cad heart rate monitor is the second model in Polar's CS series for cyclists. Here are its main cycling specific features: speed, distance, cadence, lap time, split time. It also provides information such as cycling intensity (calories/mile) and rate of calories burnt (calories/hr). It is also equipped with the useful AutoStart and AutoLap features. It measures heart rate with the comfortable Polar WearLink coded wireless transmitter. It has comprehensive information display, and you can flip from screen to screen at the press of a button. The two alternating timers can be used for interval training or can act as reminders. The Polar CS200cad can now save 7 sessions of data, as opposed to just one for the CS100. Furthermore the session data can be uploaded via SonicLink/WebLink to Polar's training web site.
| | |
| --- | --- |
| | This takes you to Amazon for some of the best selections for this model. Certain selections come with FREE Super Saver Shipping. |
Useful Information
Reviews: This page has a concise summary of Polar heart rate monitor reviews.
Further information: Visit Polar's official web site.

The next one up in Polar's CS series is the Polar CS300 heart rate monitor.

Not sure which heart rate monitor is right for you? Take a look at the Which Heart Rate Monitor page.






---
Copyright 2007-2011 Heart-rate-monitor-watches.com
---