Home > Polar > CS400
Polar CS400 Heart Rate Monitor Cycling Computer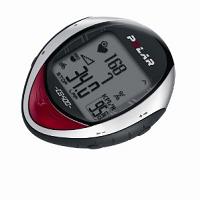 The Polar CS400 is an advanced cycling heart rate monitor specially designed for cycling training. It is the next model after the CS300 in the Polar's CS series. The Polar CS400 package includes the following parts: Cycling computer, Polar bike mount, Polar speed sensor, Polar WearLink coded transmitter and a CD-ROM with the Polar ProTrainer 5 software and the user manual. It is also compatible with the optional Polar cadence sensor.

Note: In the list below BPM stands for Beats per Minute and % of Max HR stands for Percentage of Maximum Heart Rate.

The main features of the Polar CS400 heart rate monitor are:
Continuous heart rate monitoring from the wireless chest strap using coded analogue wireless transmission
You can set heart rate limits during your training if required. You can do so manually or via OwnZone. You can also make use of Polar Sport Zones.
Polar CS400 can perform a determination of your heart rate training zone using the OwnZone feature. This is based on how fit you are on the day of your exercise.
The heart rate can be displayed as BPM or % of Max HR
The Polar CS400 alerts you when you train above or below your heart rate limits (or cadence limits*)
If the optional cadence sensor is installed, it is possible to set upper and lower cadence limits*.
You can choose one of the following pre-set exercise type: Free, Basic, OwnZone, Interval. You can also choose to create and save your own custom exercise type.
When you create your own exercise, you can choose the number of zones (1 to 3). For each zone, you specify the zone type (heart rate or cadence*) and its limits. For each zone you also set up a time or a distance after which the zone changes. So for example if you have set up the number of zones to be 3, then you may want to set up zone 1 to last 15 minutes, zone 2 to last 10 minutes and zone 3 to last 30 minutes etc. The CS400 will alert you when it is time to change zone.
Alternatively you can also create your own exercise without zones (heart rate or cadence). You choose timers/distances in this exercise. If you choose timers, you can have up to 3 timers and specifiy the duration for each timer. Likewise if you choose distances, you can have up to 3 distances and specify the length for each distance. The Polar CS400 will alert you when each timer or distance has been completed.
Polar Fitness Test: It is a simple test and it gives you a score called OwnIndex (comparable to VO2 Max) measuring your cardiovascular fitness. The test also calculates your predicted maximum heart rate.
Stop watch: Use it to start and stop exercise recording/session. Alternatively you can use AutoStart when you are cycling.
AutoStart: If this feature is switched on, exercise recording will start and stop when you start and stop cycling.
The Polar CS400 can record lap. The display will show lap number, average heart rate of lap, lap time, lap distance and average speed.
AutoLap: If this feature is switched on, the cycling computer automatically records laps when you reach a set distance e.g. 1 km or 1 mile.
The following default information can be viewed while cycling: heart rate, trip distance, speed, calorie burnt rate, average heart rate, average speed, stop watch (exercise duration), time of day, incline, altitude, heart rate graph, altitude in graph, countdown timer, zone pointer. Other pieces of data may include: lap number, lap time, lap distance, calories burnt, distance cycled, estimated time of arrival, ascent, cadence*, max speed, time in zone. All this information is not displayed all on a single screen but distributed over several screens. You can move from screen to screen by pressing a button. The display can be zoomed, illuminated and autoscrolled.
The estimated time of arrival feature requires that you first set the distance you are going to ride. The cycling computer then estimates the time you are going to arrive according to your riding speed.
The graphical view compares 2 values during exercise. The values that can be compared are speed, altitude, heart rate. So for example you can have a graph of speed vs heart rate so that you can see how the two quantities correlate.
It can store up to 99 Files (exercise summaries)
Each File contains a lot of information. Basic information includes: Date and time of exercise, distance, duration, maximum heart rate, minimum heart rate, average heart rate, target zone limits for each zone, time in, above, below each target zone, calories burnt. Cycling information includes: maximum speed, average speed, distance, maximum cadence*, average cadence*, calories per kilometer, max incline, max decline, altitude (max, min, average), ascent, descent, temperature (max, min, average), odometer. If exercise includes phases, then phase information will also be available. If you take laps, then detailed lap information (see next bullet point) will also be available.
You can review total number of laps, best lap time and number. For each lap, you see the lap number, split time, lap time, maximum heart rate, average heart rate, end heart rate of lap, average speed, end speed of lap, lap distance, maximum cadence*, average cadence*, incline, altitude, ascent, descent, temperature.
Weekly summaries: You can see, for each of the past 16 weeks, the week's total calories, distance, and exercise time. You can also see the total time spent in each heart rate sport zone.
You can view various Total Values since the last reset: bike 1 distance, bike 2 distance, total distance, total duration, total calories, total exercise count, total ascent, total odometer. Note: You can set up the computer for 2 bikes. The 1 and 2 above indicate to which bike the quantity refers.
Basic time keeping: Time, 2 time zones, date, alarm
You need to enter personal settings such as weight, height, date of birth, sex and activity level to help ensure accurate feedback on your performance e.g. calorie consumption. You can also override the defaults for maximum heart rate, sitting heart rate and VO2max. You also have to input the wheel size for your bike(s).
There is a choice of recording rate: Now you can choose to record your heart rate, speed, cadence*, power and altitude in 1, 5, 15 or 60 seconds interval.
Keylock: This prevents accidental pressing of buttons
Sleep function: Activating it will help save battery when not in use.
You can set up reminders and events to help you remember or plan things.
The Bike mount is used to attach the cycling computer securely on to the bike.
The wireless speed sensor measures speed and distance while you are cycling.
The Polar WearLink coded transmitter is included.
The Polar cadence sensor (optional) measures the speed at which you turn the pedals of your bicycle.
Backlight
Polar ProTrainer 5 software: It is a desktop PC software to help you plan your training and analyse your performance. Use it to set up weekly and daily targets in terms of calories, distance, duration and times in various heart rate zones. You can also use it to set up exercises with phases. Note that the PC needs to have an IrDA compatible port: either an external IrDA device or an internal IR port in order to transfer data.
Note: * refers to the various cadence values/settings that are only available when the optional Polar cadence sensor is installed.
The differences between the models Polar CS400 and CS300 are highlighted in bold in the list above. Bold in black means those features are found in CS400 but not in CS300.
On the Polar CS400 you can now set your recording rate, which means that you can, if you wish, collect extremely detailed information about your performance. Coupled with integration with the Polar ProTrainer 5 software, this means that you can plan and analyse your training in a very precise and detailed manner. This is a major improvement over the Polar CS300/CS200 heart rate monitors. The Polar CS400 is once again, a cyclist only heart rate monitor, unlike the CS300, which can be used in other exercises. The feature of recording lap is re-introduced in Polar CS400, having been dropped in CS300. You can now do more advanced interval training than in the preceding models. You also have more information available for you to glance at while you are cycling, things like incline, altitude, ascent etc.
Summary
The Polar CS400 heart rate monitor is an advanced model in Polar's CS series for cyclists. It is a dedicated cycling computer and is able to measure cycling speed, distance and cadence. It is equipped with the AutoStart feature and can record laps. It has many exercise options so that you can customise your exercise the way you want it, especially when used in conjunction with the Polar ProTrainer5 software. The included Polar Fitness Test helps keep track of fitness improvement over time. It has detailed information display while you are cycling, and the exercise logs provide even more data for you to analyse after your training. If you so wish, you can collect data on a second-by-second level! The Polar CS400 is for cyclists who take their training seriously.
| | |
| --- | --- |
| | This takes you to Amazon for some of the best selections for this model. Certain selections come with FREE Super Saver Shipping. |
Useful Information
Reviews: This page has a concise summary of Polar heart rate monitor reviews.
Further information: Visit Polar's official web site.

The next one up in Polar's CS series is the Polar CS500 heart rate monitor.

Not sure which heart rate monitor is right for you? Take a look at the Which Heart Rate Monitor page.






---
Copyright 2007-2011 Heart-rate-monitor-watches.com
---