Home > Polar > F55
Polar F55 Heart Rate Monitor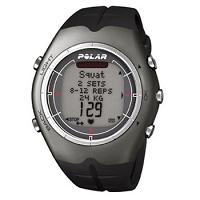 The Polar F55 heart rate monitor is a high end advanced heart rate monitor. In fact it is the most advanced model in the Polar fitness series. It builds on the features of the Polar F11. The Polar F11 introduces a new way of using a fitness heart rate monitor: it suggests a detailed, session-by-session training plan (Keeps U Fit) to structure your cardiovascular workout. The Polar F55 heart rate monitor goes one step further. In addition to having the Keeps U Fit training program, the Polar F55 also has something called the Body Workout strength training program.
Note: BPM = Beats per Minute. % of Max HR = Percentage of Maximum Heart Rate.
The main features of the Polar F55 heart rate monitor are:
Continuous heart rate monitoring
Polar Fitness Test: You do this test and you get a score called OwnIndex (comparable to VO2 Max) measuring your cardiovascular fitness.
Polar Keeps U Fit personalised training program to help you plan your cardiovascular workouts.
Polar Body Workout personalised strength training program. More details below.
Relaxation Session to measure how relaxed you are. The end result is a number called OwnRelax.
Manual setting of heart rate training zones
Two automatic methods of setting heart rate training zone: one age-based and the other fitness-based on the DAY of your exercise (OwnZone)
Both automatic methods allow you to choose four exercise intensities to determine you heart rate training limits: Basic, Light, Moderate and Hard
Heart rate can be set and displayed as BPM or % of Max HR
Heart rate zone audio alarm beeps when you train above or below your target zone
Visual zone pointer on the wrist watch keeps you training within your target zone
Instant (and post-exercise) display of calories burnt (OwnCal)
Instant (and post-exercise) display of time in target zone
Stop watch to start and stop exercise session
Short post-exercise summary: Duration, calories burnt, average heart rate, maximum heart rate
Full post-exercise summary (Daily File): Time started, duration, calories burnt, fat percentage of burnt calories, maximum heart rate, average heart rate, time in training zone, training zone limits, and more info if you use the Keeps U Fit program
It stores the last 26 Daily Files (exercise sessions).
Current week summary (Diary). It tells you the sum total of stats for this week: total number of sessions, total duration, total calories burnt, and total time spent in your light, moderate and hard exercise zones. It is saved every Sunday as a weekly file.
It stores the last 26 Weekly Files.
Cumulative stats of sessions since the last reset date: Total number of sessions, total duration, total calories burnt
Seven different reminders can be set to remind you of important events.
Display language chosen from: English, German, French, Spanish
Basic time keeping: Time, day of the week, date, alarm
Backlight
Polar UpLink to transfer data from a PC to the heart rate monitor. (Requires a Windows PC with a sound card and loudspeakers or headphones.)
Polar WebLink/SonicLink to transfer data from the heart rate monitor to Polar's fitness trainer website. (Requires a Windows PC with a sound card and a microphone.)
Wireless heart rate monitor with a coded analogue chest strap transmitter (WearLink) and a wrist watch receiver. The WearLink chest strap's battery can be self-replaced.
Water resistant up to 50m
For more information about the important Keeps U Fit training program, please refer to the Polar F11 page. To save space it won't be repeated here. The main differences (highlighted in bold in the list above) between F11 and F55 are the Polar Body Workout and Relaxation Session.
| | |
| --- | --- |
| | This takes you to Amazon for some of the best selections for this model. Certain selections come with FREE Super Saver Shipping. |
Polar Body Workout
On the Polar F55 heart rate monitor it is possible to create strength training targets with the Body Workout program . It provides you with a default Body Workout which includes 10 different movements. For each movement, it suggests how many times you should do it via the concepts of sets and repetitions. If you are asked to do 2 sets of sit ups of 8 repetitions, it means that you need to do 8 sit ups in a row, followed by a 2-3 minutes recovery rest, then another 8 sit ups.

Some movements involve the use of weights. The suggested weights are based on your age, sex and body weight. You can override it if you find it too easy or too hard.

There are some restrictions for each workout session. There are a total of 17 movements you can choose to do, but you are only allowed to choose 14 of them in a given training session. In addition the maximum number of sets you can do for each movement is three. The default Body Workout session has 10 movements.

The 17 movements are divided into 6 muscle groups: legs,chest, deltoids, back, arms and abdomen. If you want to train a particular muscle group, you can add more movement belonging to that muscle group to your training program.

In general you can edit (change the number of sets, for example), add or delete movements in a session, subject to the contraints as mentioned above.

Note: It is beneficial, while doing the body workout, to keep your heart rate above 55 % of your maximum. This is so that you derive cardiovascular and weight management gains from your workout, in addition to increasing your muscular strength.
Relaxation Session
With the Polar F55 heart rate monitor your state of relaxation can be measured. You do this by performing a relaxation session. All you have to do is to be calm and relaxed at the point of testing, sit or lie down, and start the session. It takes about 5 minutes. At the end of it you get a number called OwnRelax, which indicates how relaxed you are. Polar uses your heart rate and heart rate variability during the session to determine your OwnRelax value.

You can find out whether you are above average or below average in your relaxation state by comparing your OwnRelax value to the standard values found in a Polar supplied table.

The OwnRelax value is saved in a tool called the Relaxation Trend, which can store up to 47 OwnRelax values. These stored values can then be plotted as a graph for you to view your long term relaxation trend.
More Daily Files and Weekly Files
You can now save 26 Daily Files on the Polar F55 heart rate monitor as opposed 12 Daily Files on Polar F11. Same for Weekly Files (16 on F55 vs 12 on F11).
Summary
The Polar F55 heart rate monitor is the most advanced monitor in the Polar fitness series. It has 2 significant features over the F11 i.e. the Body Workout program and the Relaxation Session. However, at $239.95 it is also $60 more expensive than the F11.

Note that the Body Workout feature is strictly speaking not a cardiovascular fitness training aid. If you are only interested in general aerobic fitness training, you would be unlikely to use the Body Workout feature and the F11 should be able to meet your needs.
| | |
| --- | --- |
| | This takes you to Amazon for some of the best selections for this model. Certain selections come with FREE Super Saver Shipping. |
Useful Information
Reviews: This page has a concise summary of Polar heart rate monitor reviews.
Further information: Visit Polar's official web site.

Not sure which heart rate monitor is right for you? Take a look at the Which Heart Rate Monitor page.






---
Copyright 2007-2011 Heart-rate-monitor-watches.com
---