Home > Polar > RS400SD
Polar RS400SD Heart Rate Monitor
The Polar RS400SD heart rate monitor is an advanced heart rate monitor with speed and distance measurements for runners. It is actually just the Polar RS400 heart rate monitor plus the Polar S1 Foot Pod. You attach the Foot Pod to one of your running shoes. The Foot Pod then measures speed and distance while you are running and sends the information to the wrist watch.

To save space, the common features that the Polar RS400 and the Polar RS400SD heart rate monitors share will not be repeated on this page. Please refer to the RS400 page for information about the common features.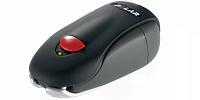 The additional functionalities of the Polar RS400SD heart rate monitor are presented below:
Polar S1 Foot Pod: You attach it to your running shoe to measure speed and distance.
You can choose to set training limits on your speed/pace. When you run too fast or too slow, you get to hear a beep to remind you to slow down or speed up, respectively.
On Polar RS400, you can set a timer to beep (after an elapsed period of time) if you need to change into another target zone. On Polar RS400SD, you can set a distance to beep (after a distance traversed) when you want to change zone. You can now do a speed/pace based zoned exercise. See the next bullet point.
You can define (up to) three speed/pace zones in a single session. You can, if you wish, use three distances to define how far you are going to train in each speed/pace zone and to remind you to change zone.
When you exercise without pre-set target zones, you can use ZoneLock to lock in a speed/pace zone around your current speed/pace.
While running, you can have various views of your progress including your current speed/pace and distance.
When running laps, you will be able to see not just time for the last lap, but also the distance and the average speed/pace for the lap
AutoLap function: You can get the Polar RS400SD to record laps automatically, for example, every mile. Remember: It is a distance sensor so it knows when to record laps.
You can choose how you display how fast you are running on your wrist watch: You can choose speed which dispalys mph (miles per hour) or km/h. You can choose pace which displays min/mi (minute per mile) or min/km. Most runners think intuitively in terms of pace. They say: I am going to do 6 minute mile for the 10K. I plan to do 7 minute mile for the marathon etc. So this is a great convenience for you as a runner.
Additional short summary (when exercise is paused): Distance covered, max speed/pace, average speed/pace
Additional full summary (File) info: Limits of pace/speed zone(s), max pace/speed, average pace/speed, distance covered, Running Index. For each lap, you can now view the average pace/speed of the lap, the end pace/speed of the lap, the lap distance and the distance from the start to the end of the lap.
Additional Weekly File info: Total distance you have run for the week
Additional cumulative statistic: Total distance run since last reset
| | |
| --- | --- |
| | This takes you to Amazon for some of the best selections for this model. Certain selections come with FREE Super Saver Shipping. |
The simple addition of a Polar S1 Foot Pod introduces many additional functionalities to the feature set of the Polar RS400. Remember that:
Polar RS400SD = Polar RS400 + Pod S1 Foot Pod
Distance runners are often keen to know what their pace is (was) at various stages of their race. The Polar RS400SD heart rate monitor gives them just that information. And if the AutoLap feature is switched on, this is even done automatically.
Running Index: This index measures how good you are as a runner. It is a measure of your aerobic fitness (VO2 Max) and exercise economy. You get the Running Index as a number at the end of each run if you wear your foot pod. This number is stored and you can compare numbers from successive runs to see if you have improved as a runner.
Summary
The Polar RS400SD heart rate monitor is designed for serious runners, particularly those who would like to analyse and plan their training details on their own computer. The S1 Foot Pod enhances the capabilities of the Polar RS400 heart rate monitor to include speed and distance measurements with Running Index to chart your improvements as a runner. The Polar RS400SD heart rate monitor retails at around $369.95.
| | |
| --- | --- |
| | This takes you to Amazon for some of the best selections for this model. Certain selections come with FREE Super Saver Shipping. |
Useful Information
Reviews: This page has a concise summary of Polar heart rate monitor reviews.
Further information: Visit Polar's official web site.

The next one up in Polar's RS series is the Polar RS800 and RS800SD heart rate monitors.

Not sure which heart rate monitor is right for you? Take a look at the Which Heart Rate Monitor page.






---
Copyright 2007-2011 Heart-rate-monitor-watches.com
---