Home > Polar > S120
Polar S120 Heart Rate Monitor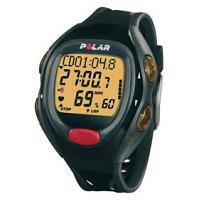 The Polar S120 heart rate monitor is an entry level heart rate monitor for runners in the Polar S series.

The main features of the Polar S120 heart rate monitor are:
Continuous heart rate monitoring
Aged based maximum heart rate calculation
You can exercise and record your heart rate in 2 ways: Basic Use or Exercise Set.
Basic Use: You exercise without any settings i.e. no heart rate zones or timers etc but heart rate information will be recorded.
Exercise Set: You can manually set up to 3 heart rate training zones and up to 3 consecutive timers to guide your exercise. You can also program a time-based or a heart-rate-based recovery calculation.
Heart rate zone alarm can be turned on or off.
Record lap and split time up to a max of 60 laps. Lap time is elapsed time for one lap. Split time is total elapsed time from the start.
A separate count up or count down timer can be used independently.
Stop watch
The following information can be displayed real time: Current heart rate, average heart rate, heart rate as % of Max HR, stop watch, time of day, split and lap times, count down or count up timer. You can't see them all at the same time, but you can swap the display between them.
Post-exercise summary (File): Duration, average heart rate, maximum heart rate, recovery value, limits of target heart rate zones, time in, above, below target heart rate zones, lap information (see point below), cumulative exercise time
Lap information includes lap number, split time, lap time, average heart rate, heart rate at end of the lap.
Basic time keeping: Time, date, alarm, two time zones
Water resistant up to 50m
Polar UpLink to transfer data from a PC to the heart rate monitor. This feature requires a Windows PC with a sound card and loudspeakers or headphones.
Analogue wireless transmission from its chest strap
Summary
The Polar S120 heart rate monitor has quite a number of runner specific features: lap time, split time, independent count down (or up) timer, and the Exercise Set feature. The 3 heart rate training zones and 3 consecutive timers are of real help in structuring an interval training session.
Note: The Polar S120 heart rate monitor has been superseded. Its closest replacement is the Polar RS100. The two heart rate monitors have fairly similar features. The RS100 has added backlight, calories burnt, OwnZone and coded transmission to its specs. However, instead of having 3 consecutive timers, it has 2 alternating timers. But on the whole, the RS100 has got more features than the S120.
Useful Information
Reviews: This page has a concise summary of Polar heart rate monitor reviews.
Further information: Visit Polar's official web site.

The next monitor in the Polar S series is the Polar S150 heart rate monitor.

Not sure which heart rate monitor is right for you? Take a look at the Which Heart Rate Monitor page.






---
Copyright 2007-2011 Heart-rate-monitor-watches.com
---