Home > Polar > S410
Polar S410 Heart Rate Monitor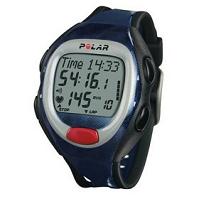 The Polar S410 heart rate monitor is an intermediate level heart rate monitor for runners in the Polar S series. The S410 is essentially the same monitor as the S210, but it has got one additional functionality: it can download exercise file data from the wrist watch to a computer for analysis.

The main features of the Polar S410 heart rate monitor are:
Continuous heart rate monitoring
Aged based maximum heart rate calculation
Polar Fitness Test: It gives OwnIndex and predicts maximum heart rate.
Record your heart rate in 2 ways: Basic Use or Exercise Set.
Basic Use: You exercise without any settings.
Exercise Set: Choose between Basic Set and Interval Training Set. You can preset up to 5 Exercise Sets.
Basic Set: You can set up to 3 heart rate training zones and up to 3 consecutive timers and a recovery calculation.
Interval Training Set: This consists of a warm up phase, followed by up to 30 repeating interval (and recovery) phases, and finally by a cool down phase. You can choose 3 types of interval types: time-based interval, heart-rate-based interval or manual interval. You can also program a time-based or a heart-rate-based recovery calculation at the end of an interval.
Heart rate zone alarm can be turned on or off.
OwnCal calorie counter
Record lap and split time up to a max of 99 laps.
Stop watch
Real time information display: Current heart rate, average heart rate, heart rate as % of Max HR, stop watch, time of day, split and lap times, lap number, calorie count.
1 complete file: Date and time of exercise, duration, average and maximum heart rates, recovery value, limits of target heart rate zones, time in, above, below target heart rate zones, calories burnt, cumulative calories burnt, cumulative exercise time, detailed interval training information, detailed lap information.
It records heart rate at a sampling rate of 15 seconds up to 120 samples. When the memory is full, it is compressed and a longer averaging period is used (30 secs, 1 min, 2 min, 4 min, 8 min) depending on the recorded exercise time.
5 summary files: Date and time of exercise, duration, average and maximum heart rate readings of session.
Basic time keeping: Time, date, alarm, two time zones
Backlight
Water resistant up to 50m
Polar UpLink to transfer data from a PC to the Polar S410 heart rate monitor. Requires a Windows PC with a sound card and loudspeakers or headphones.
Coded analogue wireless transmission from its chest strap.
PC download via Polar Sonic Link. This requires a PC with a sound card and a microphone.
Polar Precision Performance Software: Use it for detailed analysis of downloaded training data (complete file).
Note: The additional S410 features over those of S210 are denoted in bold above. To save space, the full details of the common features are not repeated here. Please check the S210 page for more information.
Summary
The Polar S410 heart rate monitor is basically the same heart rate monitor as the S210. Therefore it has all the important features of the S210.
The important addition is the ability to download exercise information to a PC for further analysis. For example, you can graph your heart rate data to see how it behaved during the session. You can use the software as an exercise diary so that you can associate a particular set of training data with its sport and exercise type and other relevant information. You can also use it to create various reports to check your training progress.
Useful Information
Reviews: This page has a concise summary of Polar heart rate monitor reviews.
Further information: Visit Polar's official web site.

The next monitor in the Polar S series is the Polar S520 heart rate monitor.

Not sure which heart rate monitor is right for you? Take a look at the Which Heart Rate Monitor page.






---
Copyright 2007-2011 Heart-rate-monitor-watches.com
---