Home > Sigma Sport > Nordic Watch
Sigma Sport Nordic Watch
Heart Rate Monitor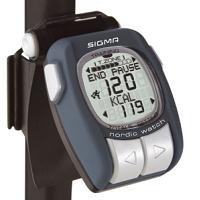 Sigma Sport Nordic Watch is a heart rate monitor designed for Nordic walking and cross country skiing. The display unit can be fixed to a walking/skiing pole. Furthermore the angle at which it is fixed can be adjusted so that you can easily read the display. While training, the important data is scrolled automatically, allowing hands free operation.

The main features of the Nordic Watch are:
Continuous heart rate monitoring
You can manually set your heart rate training zone.
You can also get the watch to automatically set your heart rate training zone based on your gender, age and weight.
You can set an alarm to alert you when you are training above or below your heart rate zone limits
Stop watch: Start, (pause, restart,) stop
Calorie counter
Autoscan feature: Training time (so far), calories consumed (so far), and current time is displayed automatically one after the other while you train.
When you have finished, you can review your training duration and calories consumed for the session.
You can also view the following multiple session totals: Total training time and total calorie burnt. These numbers can be reset to start counting from zero again whenever you wish.
Basic time keeping: Time and date
Backlight
Wireless heart rate monitor (ECG accurate) with an analogue chest strap transmitter and a wrist watch receiver
It can work with gym equipment (e.g. treadmills) capable of picking up your transmitter's signals to show your heart rate on the equipment's display panel
Clip with O-ring for attaching the display unit to a pole
The display unit can also be attached to a lanyard
Summary
The Sigma Sport Nordic Watch heart rate monitor is designed for sports like cross country skiing or Nordic walking. It is simple to set up, and can be flexibly attached to the walking/skiing pole. The Autoscan feature makes it easy to read the training and time information without having to operate a button.
| | |
| --- | --- |
| | This takes you to Amazon for some of the best selections for this model. Certain selections come with FREE Super Saver Shipping. |
Useful Information
Reviews: This page has a concise summary of Sigma Sport heart rate monitor reviews.
Further information: Visit Sigma's official web site.

Not sure which heart rate monitor is right for you? Take a look at the Which Heart Rate Monitor page.






---
Copyright 2007-2011 Heart-rate-monitor-watches.com
---