Home > Sportline > Solo 925
Sportline Solo 925 Heart Rate Monitor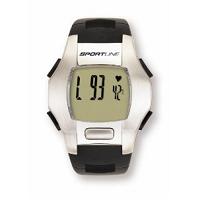 The Sportline Solo 925 heart rate monitor is a strapless heart rate monitor that uses S-Pulse technology to measure your heart rate. It is ECG accurate. It does not require a chest strap transmitter. To measure your heart rate, simply put one finger on the sensor on the wrist watch for 3 to 8 seconds for the heart rate to be displayed. The Solo 925 measures heart rate on demand, rather than continuously. In terms of features, the Solo 925 is almost identical to Solo 920. There are several versions of Solo 925. In addition to the one shown above, there is one that is designed for women and one that uses Any Touch Technology.
Important note: Do not confuse the Solo 925 with the Solo 925W. The Solo 925W is a heart rate monitor and a pedometer all in one unit and is designed for women. Sportline Solo 925 does not have the pedometer feature.
Its main features are:
Strapless (no chest strap), on demand heart rate monitoring
Heart rate displayed on wrist watch in 3 to 8 seconds after measurement
Heart rate zone with alerts. The heart rate zone can be set manually or automatically based on your age and gender. The alerts can be set to on or off.
Stop watch (count up timer)
Countdown timer
Calorie counter
Basic time keeping: dual time, date, daily alarm (on/off), hourly chime (on/off)
Button beep (on/off)
Backlight
Note again that the features in the Solo 925 model are largely identical to those found on the Solo 920.
The two other versions of Sportline Solo 925 are shown below. The left one is designed for women. The right one uses Any Touch Technology which basically means that you can touch anywhere on the metallic case in order for it to measure your heart rate.
Comments
Sportline Solo 925 includes the heart rate training zone feature. It is possible to set the upper and lower heart rate limits within which you want your heart rate to fall during your training. When you measure your heart rate, it will beep once if your heart rate is within zone limits, and twice if your heart rate is above or below zone limits. The wristwatch display will also indicate whether you are in or out of zone. This reminds you to either work harder or ease back in your training.
The dual time feature allows you to check what the time is at another time zone.
There is a calorie counter which you can start and stop. It is important to measure your heart rate before, during and after your exercise, in particular when you change intensity, since the calculation of calorie burnt is based on the heart rate measured.
Summary
The Sportline Solo 925
is an heart rate on-demand strapless heart rate monitor. It measures heart rate, allows you to set a heart rate zone, has a stop watch, a countdown timer and a calorie counter. Featurewise it is essentially the same as the Sportline Solo 920 model. These two models differ mainly in colors, sizes and shapes.
| | |
| --- | --- |
| | This takes you to Amazon for some of the best selections for this model. Certain selections come with FREE Super Saver Shipping. |
Useful Information
Further information: Visit Sportline's official web site.

Not sure which heart rate monitor is right for you? Take a look at the Which Heart Rate Monitor page.






---
Copyright 2007-2011 Heart-rate-monitor-watches.com
---