Home > Sportline > Solo 925W
Sportline Solo 925W Heart Rate Monitor with Pedometer for Women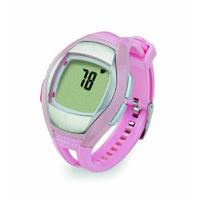 The Sportline Solo 925W is a strapless heart rate monitor and a pedometer all in one unit. It uses S-Pulse technology to measure your heart rate with ECG accuracy and so it does not require a chest strap transmitter. To measure your heart rate, simply touch anywhere on the stainless steel case (Any Touch Technology) on the wrist watch for 3 to 8 seconds for the heart rate to be displayed. The Solo 925W measures heart rate on demand, rather than continuously. The integrated pedometer measures steps, distance, speed and a host of other information. The Solo 925W is one model up from the Solo 920 model and is designed for women.
Important note: Do not confuse the Solo 925W with the Solo 925. The Solo 925W is a heart rate monitor and a pedometer all in one unit. The various models of Sportline Solo 925 do not have the pedometer feature.
Its main features are:
Strapless (no chest strap), on demand heart rate monitoring
Any Touch Technology
Heart rate displayed on wrist watch in 3 to 8 seconds after measurement
Heart rate zone with alerts. The heart rate zone can be set manually or automatically based on your birth date and gender. The alerts can be set to on or off.
Heart rate lock: This feature deactivates the finger touch heart rate measurement feature when you don't want to accidentally acquire heart rate.
Resting heart rate: Sportline Solo 925W can be used to store your resting heart rate so you can track your fitness over time.
Pedometer: It measures steps, exercise/walking time, calories burnt, distance, speed, and average heart rate. For enhanced accuracy in its various calculations, it asks you for your stride length, height and weight.
Stop watch (count up timer)
Countdown timer
Basic time keeping: dual time, date, daily alarm (on/off), hourly chime (on/off)
Button beep (on/off)
Backlight
The features printed in bold are found in the Solo 925W model but not in the preceding Solo 920 model. Note that instead of a separate calorie counter, calorie counting is now integrated as part of the pedometer feature.
Comments
The main addition in terms of features is the integrated pedometer. It measures and calculates a host of information: steps that you have walked, walking duration, calories burnt during walking, distance covered, walking speed and the average heart rate. If you wish you can set steps goal i.e. a goal of how many steps you wish to walk, and the wrist watch then shows a indicator bar showing you the progress you have made towards your desired goal. There are also 3 levels of sensitivity you can adjust for your pedometer, in the event that you think steps are being missed or overcounted. The pedometer also asks you for your stride length during the setup process to ensure the accuracy of its speed and distance calculations.
Summary
The Sportline Solo 925W is a strapless heart rate monitor plus a pedometer. It measures heart rate using Any Touch Technology, allows you to set a heart rate zone, has a stop watch, a countdown timer and a pedometer. The Sportline Solo 925W heart rate monitor/pedometer is particularly great for walkers as it supplies a host of useful information related to walking exercise.
| | |
| --- | --- |
| | This takes you to Amazon for some of the best selections for this model. Certain selections come with FREE Super Saver Shipping. |
Useful Information
Further information: Visit Sportline's official web site.

Not sure which heart rate monitor is right for you? Take a look at the Which Heart Rate Monitor page.






---
Copyright 2007-2011 Heart-rate-monitor-watches.com
---