Home > Timex > Personal Trainer
Timex T5G971 Personal Trainer Heart Rate Monitor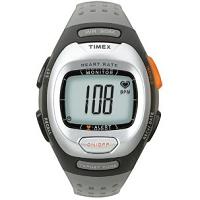 The Timex T5G971 heart rate monitor is a basic heart rate monitor. It is one model up from the Timex T5G941 (Easy Trainer). It uses analogue transmission. This timex heart monitor is identified either by its numeric designation (T5G971) or by its name (Personal Trainer). It adds several useful features not available in the more junior T5G941 model.
The main features of the Timex Personal Trainer heart rate monitor are:
Continuous Heart Rate Monitoring
Manual Heart Rate Training Zone with Audio Alerts (when exercising heart rate goes above or below the zone)
Heart rate can be displayed as BPM or % of Max HR
Exercise Duration is tracked by the Automatic Activity Timer
Recovery Heart Rate Timer (1 min)
The following session data can be reviewed: activity duration, time in target zone, average heart rate, maximum heart rate, calories burnt, recovery heart rate
Basic Time and Date Keeping
Backlight
Wireless heart rate monitor composed of an analogue chest strap transmitter and a wrist watch receiver
Water resistant up to 30m. However, do not press any buttons under water.
User-replaceable Battery (CR2032 for both chest strap and wrist watch)
The features printed in bold are found in this Timex T5G971 model but not in the preceding Timex T5G941 model. So these are the differences between the two models.
The most important additional feature is the ability to set a heart rate training zone so that your training becomes more precise and targeted. If you push yourself too hard or too little so that your heart rate goes above or below the zone, you get an audio alert to remind you. At the end of your workout, you can also review calories burnt and time spent in the target training zone during the workout session. The recovery timer helps to track your improvements in fitness over time.
Summary
The Timex T5G971 Personal Trainer has added several important features to the preceding T5G941 model. It is still easy to use and affordable. We think that the addition of the heart rate training zone, a calorie counter and a recovery timer makes it a much better choice over the entry level T5G941 model.
| | |
| --- | --- |
| | This takes you to Amazon for some of the best selections for this model. Certain selections come with FREE Super Saver Shipping. |
Useful Information
Further information: Visit Timex's official web site.

Next one up in the Timex series is the Timex Ironman Zone Trainer. It is an intermediate heart rate monitor that comes with several colors, shapes and sizes. There are 4 sub-models with the numeric designation of T5J031, T5H881, T5H911 and T5J983. These 4 models all have the same features.

Not sure which heart rate monitor is right for you? Take a look at the Which Heart Rate Monitor page.






---
Copyright 2007-2011 Heart-rate-monitor-watches.com
---