Home > Nike > C3
Nike C3 Heart Rate Monitor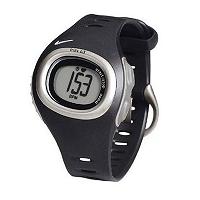 Nike C3 heart rate monitor is the entry level model in the Nike Triax series. It is a very basic heart rate monitor with a minimum of essential features. It is intended for general fitness training.
Important Note: The Nike C3 is obsolete. Please take a look at Timex T5G941 Easy Trainer, it has similar features.
Here are its main features:
Continuous Heart Rate Monitoring
Stop watch to start and stop exercise session giving its duration
Basic Time Keeping - Time only, no date or alarm
Wireless heart rate monitor with an analogue chest strap transmitter and a wrist watch receiver
Note that the Nike Triax C3 does not have the following fairly common basic features:
Heart rate training limits
Maximum and average heart rate of exercise session
Backlight
Summary
Nike C3 is a very simple heart rate monitor which does only one job i.e. monitoring of your heart rate continuously. It does not have any added extras but it does its only job very well.
Because of its simplicity, it is very easy to use. Put on your chest strap and wrist watch, press one button to start your session and the monitoring begins. It is as simple as that.
Useful Information
Reviews: This page has a concise summary of Nike heart rate monitor reviews.
Further information: Visit Nike's official web site.

Next one up in the Nike Triax series is the Nike Triax C5.

Note: The Nike C3 is very much like the Polar A1, which is also a bare-minimum heart rate monitor with no extras.

Not sure which heart rate monitor is right for you? Take a look at the Which Heart Rate Monitor page.






---
Copyright 2007-2011 Heart-rate-monitor-watches.com
---