Home > Nike > C5
Nike C5 Heart Rate Monitor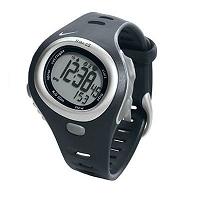 Nike C5 heart rate monitor is the next model up from the Nike C3 in the Nike Triax series. It is a basic heart rate monitor designed for general use and fitness training.
Important Note: The Nike C5 is obsolete. Please take a look at the Timex T5G971 Personal Trainer, it has similar features.
Here are its main features:
Continuous Heart Rate Monitoring
You can now train inside a heart rate zone by setting your upper and lower heart rate limits.
You can turn on an audible alarm which beeps when your heart rate goes outside of your zone limits.
Stop watch to start and stop exercise session
In addition to duration, you can recall average heart rate and time in target zone for your last session.
Basic Time Keeping - Time, date, alarm
Backlight
Wireless heart rate monitor with an analogue chest strap transmitter and a wrist watch receiver
Note that the features in bold above denote the features found in Nike C5 but not in Nike C3.
The Nike Triax C5 is a significant improvement over the Nike C3. It introduces heart rate training limits with audible alarm, which are quite important for setting training goal and for preventing over- or under-training.
It is also better at recalling what you have achieved in your last session. You get your average heart rate of the session and the time you spent in your target zone during the session.
You can now also set date and alarm, making it now really usable as a watch to be worn daily.
Lastly the backlight feature allows you to go running in the dark and still be able to check your time and heart rate.
Summary
The Nike C5 heart rate monitor is much more complete than the Nike C3 with the introduction of heart rate zone limits. It strikes a nice balance between ease-of-use and feature overload for a beginning heart rate monitor user.
The Triax C5 has received great reviews on Amazon by its users for its ease of use, design, functionality and being long lasting.
Useful Information
Reviews: This page has a concise summary of Nike heart rate monitor reviews.
Further information: Visit Nike's official web site.

Next one up in the Nike Triax series is the Nike C6.

Not sure which heart rate monitor is right for you? Take a look at the Which Heart Rate Monitor page.






---
Copyright 2007-2011 Heart-rate-monitor-watches.com
---