Home > Nike > C6
Nike C6 Heart Rate Monitor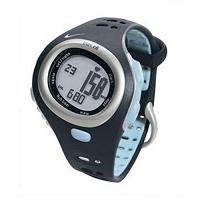 Nike C6 heart rate monitor is the next model up from the Nike C5 in the Nike Triax series. It is an intermediate heart rate monitor for general fitness training.
Important Note: The Nike C6 is obsolete. Please take a look at the Sigma Sport PC 15, it has similar features.
Here are the main features of Nike C6 heart rate monitor:
Continuous Heart Rate Monitoring
You can now do a test called the Personal Zone Finder to determine your own personalised zone limits for four intensities: Easy (Z1), Medium (Z2), Hard (Z3) and Very Hard (Z4).
The results of the test become your own four heart rate training zones. You can override the limits manually if you wish. An audible alarm, if turned on, will beep when your heart rate goes from one zone to the other.
You can see, while still exercising, how many calories you have burnt.
You can also see, while exercising, a bar graph showing your heart rate during the past hour or so of your exercise. You see a number of bars with each bar representing your heart rate average for 2 minutes. Interesting!
Stop watch to start and stop exercise session
After the exercise, you can recall the total time, total calories burnt and the time you spent in each of your four training zones.
Basic Time Keeping - Time, date, alarm
Power Save feature: You can set the time after which the watch will go to sleep i.e. the display goes off. This saves battery life. You can easily wake the watch up by pressing any button.
Backlight
Wireless heart rate monitor with an analogue chest strap transmitter and a wrist watch receiver
Note that the features in bold above show the features found in Nike C6 but not in Nike C5.
The Nike Triax C6 heart rate monitor takes heart rate monitoring one step further than the Nike Triax C5. It has introduced four heart rate training zones. This does not mean that you have to train in all four zones in a given exercise session, however.
You can still be aiming to train in one zone, say, Z2 the Medium Zone, for example. When your heart rate drops below Z2 (and so ends up in Z1) or rises above Z2 (and ends up in Z3), you get to hear a beep to remind you that you have crossed the zone limit. Better still, at the end of your exercise, you can see how much time you spent in each of the Z1 to Z4 zones. Hopefully you will find that you have spent the majority of your time training in Z2 (your target zone for this session) and in so doing you have achieved your training objective.
The Personal Zone Finder test gives you your own heart rate limits for easy exertion (Z1), medium exertion (Z2), hard exertion (Z3) and very hard exertion (Z4). According to Nike, this is considerably better than following a particular set formula or looking up a particular table to find your own zone limits. The test takes into account what your body i.e. your heart rate is telling you. You do this test about once a month.
If you are watching your weight or engaging in a weight loss program, you will welcome the addition of the calorie counter.
The Nike C6 heart rate monitor has this rather unusual feature which shows a bar graph of your average heart rate over time. You can use this to see if you have been training according to your plan.
Summary
The addition of the calorie counter to the Nike C6 heart rate monitor is a welcome addition for fitness enthusiasts and for those watching their weight. The Nike C6 has received great reviews on Amazon from its users.
Useful Information
Reviews: This page has a concise summary of Nike heart rate monitor reviews.
Further information: Visit Nike's official web site.

Next one up in the Nike Triax series is the Nike Triax C8.

Not sure which heart rate monitor is right for you? Take a look at the Which Heart Rate Monitor page.






---
Copyright 2007-2011 Heart-rate-monitor-watches.com
---