Home > Sigma Sport > PC 15
Sigma Sport PC 15 Heart Rate Monitor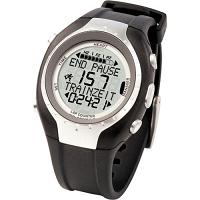 The Sigma Sport PC 15 heart rate monitor is an intermediate heart rate monitor. However it has a number of additional features (indicated in bold in the list below) over and above those of Sigma Sport PC 9 heart rate monitor.

The main features of the Sigma Sport PC 15 heart rate monitor are:
Continuous heart rate monitoring
PC 15 can automatically set 3 heart rate training zones based on your personal data. The zone limits can be overridden manually.
You can see a visual indicator of which heart rate zone you are currently training in and your current heart rate as % of your HR max.
You can set a zone alarm to beep when you are crossing your heart rate zone boundaries.
You can run 2 independent stop watches with start, (pause, restart,) and stop.
You can record up to 50 laps with a lap counter.
You can view, both during and after the exercise session, the following session data: Time spent training in the 3 heart rate zones, exercise duration, average heart rate, maximum heart rate, calories burnt.
You can also view the following multiple session totals: Total training time and total calorie burnt. These numbers can be reset to start counting from zero again whenever you wish.
Basic time keeping: Time, date and alarm
Backlight
Wireless heart rate monitor (ECG accurate) with an analogue chest strap transmitter and a wrist watch receiver
It can work with gym equipment (e.g. treadmills) capable of picking up your transmitter's signals to show your heart rate on the equipment's display panel
Self changed batteries for the wrist watch and the chest strap transmitter
Bicycle mounting bracket
Note: HR max = maximum heart rate
| | |
| --- | --- |
| | This takes you to Amazon for some of the best selections for this model. Certain selections come with FREE Super Saver Shipping. |
To save space, the common features between Sigma PC 15 and PC 9 will not be covered here. For more information, please refer to the Sigma Sport PC 9 page.
The Sigma Sport PC 15 comes now with 2 independent stop watches. The first stop watch is the one you normally use when you are training. The second stop watch is one which you can use separately to time the duration of something else (whatever you need).
If you need to record laps, you can use a separate lap counter. This way you can record your time for each individual segment of your run. You can now measure your lap time every 400 metres or every mile or whatever distance you choose.
When you have finished with doing laps, you can go through each lap and check your lap time. This data is stored in memory for you to recall later. Note however, that this facility is separate from your heart rate training i.e. it does not store your heart rate information associated with each lap. For example, many heart rate monitors with lap counting facility will store your average heart rate associated with each one of your laps. The Sigma Sport PC 15 does not do that. I am not sure why this heart rate monitoring functionality is not integrated with the lap counter.
Summary
The Sigma Sport PC 15 is a very good heart rate monitor. It has got excellent reviews on Amazon with many satisfied users, who comment on its reliability, ease-of-use and accuracy (of heart rate measurement and calories estimation). They also like the real time feedback and flexible display of the wrist watch unit. Note that the lap taking is not integrated with heart rate monitoring. For many people, this Sigma Sport heart rate monitor offers excellent value for its price.
| | |
| --- | --- |
| | This takes you to Amazon for some of the best selections for this model. Certain selections come with FREE Super Saver Shipping. |
Useful Information
Reviews: This page has a concise summary of Sigma Sport heart rate monitor reviews.
Further information: Visit Sigma's official web site.

The next wireless heart rate monitor in the current Topline series is the Sigma Sport Fit Watch.

Not sure which heart rate monitor is right for you? Take a look at the Which Heart Rate Monitor page.






---
Copyright 2007-2011 Heart-rate-monitor-watches.com
---