Home > Sigma Sport > PC 9
Sigma Sport PC 9 Heart Rate Monitor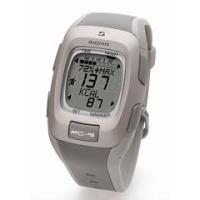 The modern and stylish Sigma Sport PC 9 is a basic/intermediate heart rate monitor. However it has considerably more features (indicated in bold in the list below) than the entry level Sigma Sport PC 3 and PC 4 heart rate monitors.

The main features of the Sigma PC 9 heart rate monitor are:
Continuous heart rate monitoring
PC 9 can automatically set 3 heart rate training zones based on your personal data. The zone limits can be overridden manually.
You can see a visual indicator of which heart rate zone you are currently training in and your current heart rate as % of your HR max.
You can set an zone alarm to beep when you are crossing your heart rate zone boundaries.
Stop watch: Start, (pause, restart,) stop
You can view, both during and after the exercise session, the following session data: Time spent training in the 3 heart rate zones, exercise duration, average heart rate, calories burnt.
You can also view the following multiple session totals: Total training time and total calorie burnt. These numbers can be reset to start counting from zero again whenever you wish.
Basic time keeping: Time, date but no wake up alarm
Wireless heart rate monitor (ECG accurate) with an analogue chest strap transmitter and a wrist watch receiver
It can work with gym equipment (e.g. treadmills) capable of picking up your transmitter's signals to show your heart rate on the equipment's display panel
Bicycle mounting bracket
Note: HR max = maximum heart rate
Note: The Sigma Sport PC9 does not have a backlight. The batteries should be changed by an authorized dealer.
| | |
| --- | --- |
| | This takes you to Amazon for some of the best selections for this model. Certain selections come with FREE Super Saver Shipping. |
The Sigma Sport PC 9 heart rate monitor defines 3 heart rate training zones:
Health-Zone: 55 to 70% of the HR max
Fitness-Zone: 70 to 80% of the HR max
Power-Zone: 80 to 100% of the HR max
Based on your personal data (sex, age, weight), the PC 9 calculates your maximum heart rate. It then uses your max heart rate to automatically set your own personalized limits for the 3 training zones. You can, of course, override them if you want to set your own.
During training, you can review a host of your current session data. Let's say you are aiming to train within the Fitness Zone (70 to 80% HR max) today. You can actually see your time spent in the Fitness Zone in hours and minutes but also as percentage of your total training time. This way you can easily check that you have spent the majority of your time in your intended training zone.
Summary
Sigma Sport PC 9
introduces the heart rate training zones into its list of features. In addition, you can review much of your training data real time while you are training. For example, let's say you are planning to burn 300 calories in the current session. During your training, you check with the monitor and it tells you that you have only burnt 200 calories so far. With this knowledge you know you need to train a little bit longer.
Sigma Sport PC 9 is a relatively simple to use heart rate monitor with real time feedback of training information.
| | |
| --- | --- |
| | UPDATE: The new 2010 models of the Sigma Sport PC 9 for men and women are available NOW. |
| | |
| --- | --- |
| | This takes you to Amazon for some of the best selections for this model. Certain selections come with FREE Super Saver Shipping. |
Useful Information
Reviews: This page has a concise summary of Sigma Sport heart rate monitor reviews.
Further information: Visit Sigma's official web site.

The next wireless heart rate monitor in the current Topline series is the Sigma Sport PC 15.

Not sure which heart rate monitor is right for you? Take a look at the Which Heart Rate Monitor page.






---
Copyright 2007-2011 Heart-rate-monitor-watches.com
---