Home > Polar > FS2
Polar FS2 Heart Rate Monitor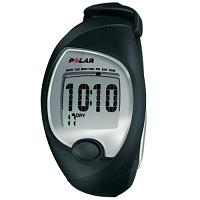 Polar FS2 heart rate monitor is a fairly basic heart rate monitor. It is part of the Polar fitness monitor series (F- and FS- series) for general use and fitness training.
Important Note: The Polar FS2C supercedes this model. The FS2C uses coded transmission to reduce interference.
Let us look at the main features of the Polar FS2 heart rate monitor. It has:
Continuous Heart Rate Monitoring
Manual Setting of Heart Rate Training Zone with Audio and Visual Alarm
Duration of Exercise Session (using its Stop Watch)
Average Heart Rate of Exercise Session
Maximum Heart Rate of Exercise Session
Basic Time Keeping - Time, Day of the Week, Date
Backlight
Wireless heart rate monitor composed of an analogue chest strap transmitter and a wrist watch receiver
Water resistant up to 50m
The features in bold are found in FS2 but not in FS1. The FS2 pretty much has everything expected of a basic heart rate monitor.
If you cross check the specs of Polar FS2 with those of Polar FS1, you find the following enhancements:
You can recall your maximum heart rate of your last session with FS2
You can set the day of the week and date on FS2, making it more like a proper watch
You have backlight on FS2 which can be useful in the dark
You can recall the date of your last exercise
Polar FS1 and FS2 are otherwise identical.
Summary
The Polar FS2 heart rate monitor is pretty basic and aims at the same set of users as FS1 does i.e. those new to heart rate monitoring or those wanting something simple.
At $79.95, the Polar FS2's suggested retail price is $10 higher than the Polar FS1. To me it makes sense to pay the extra $10 for the additional features that FS2 has got, if you are already after the FS1.
| | |
| --- | --- |
| | This takes you to Amazon for some of the best selections for this model. Certain selections come with FREE Super Saver Shipping. |
Useful Information
Reviews: This page has a concise summary of Polar heart rate monitor reviews.
Further information: Visit Polar's official web site.

The next one up in the series of Polar fitness monitors is the Polar FS3. It has ONE additional feature on top of FS2.

Not sure which heart rate monitor is right for you? Take a look at the Which Heart Rate Monitor page.






---
Copyright 2007-2011 Heart-rate-monitor-watches.com
---