Home > Sigma Sport > Onyx Balance
Sigma Sport Onyx Balance
Heart Rate Monitor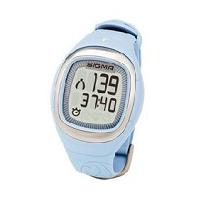 Sigma Sport Onyx Balance heart rate monitor is a simple and elegant heart rate monitor for women. It is an entry level model in the Sigma Sport Onyx series. It uses digital wireless transmission technology and it has easy to read display with large figures. It also has simple operation via pressing the flexible decorative ring instead of buttons. The lack of traditional buttons make the watch look sleek and slender.

The main features of the Sigma Onyx Balance are:
Continuous heart rate monitoring
You can manually set your heart rate training zone.
You can also get the watch to automatically set your heart rate training zone based on your gender, age and weight.
You can set an alarm to alert you when you are training above or below your heart rate zone limits
Stop watch: Start, (pause, restart,) stop
You can review your training duration, calories consumed, average heart rate and time during your exercise session.
Basic time keeping: Time and date but no wake up alarm
Backlight
Wireless heart rate monitor (ECG accurate) with a digital chest strap transmitter and a wrist watch receiver
Self-changed batteries for both the wrist watch and the transmitter
Bicycle mounting bracket
Note: Digital transmission means that you can train with a group of people in close proximity with hardly any risk of interference from their heart rate monitors. The downside is that your transmitter chest belt is not going to work with gym equipment like treadmills etc.
You can choose to train in the Fat Burner Zone (55 to 70% of HR Max) or the Fitness Zone (70 to 80% if HR max) when you get the watch to set your heart rate limits automatically, depending on your objective for the session.
Summary
The Sigma Sport Onyx Balance heart rate monitor is designed for female exercisers. Apart from basic heart rate monitoring, it has the useful features of a calorie counter and digital transmission. The self-changed batteries is a great convenience so you don't have to send the watch back to the manufacturer or an authorized dealer to replace a used battery.
Note: There is another version of this heart rate monitor known as the Onyx Classic. Except for the appearance of the wrist watch, the Onyx Classic is identical to the Onyx Balance and is aimed towards the young.
| | |
| --- | --- |
| | This takes you to Amazon for some of the best selections for this model. Certain selections come with FREE Super Saver Shipping. |
Useful Information
Reviews: This page has a concise summary of Sigma Sport heart rate monitor reviews.
Further information: Visit Sigma's official web site.

The next wireless heart rate monitor in the Onyx series is the Sigma Sport Onyx Easy.

Not sure which heart rate monitor is right for you? Take a look at the Which Heart Rate Monitor page.






---
Copyright 2007-2011 Heart-rate-monitor-watches.com
---