Home > Sigma Sport > PC 3FT
Sigma Sport PC 3FT Heart Rate Monitor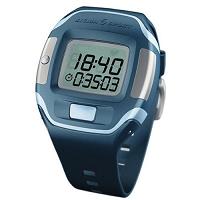 Sigma Sport PC 3FT heart rate monitor is a basic finger touch heart rate monitor measuring heart rate on demand. It does not come with a chest strap transmitter.

The main features of the Sigma PC 3FT are:
On demand finger touch heart rate monitoring (ECG accurate)
One button operation
Stop watch: Start, (pause, restart,) stop
You can recall previous training duration
Basic time keeping: Time (but no date/alarm)
Note: The Sigma Sport PC 3FT does not possess the following basic features: Heart rate training limits, average/max heart rates, backlight. The wrist watch battery should be changed by an authorised dealer.
When you want to measure your heart rate, you simply put two fingers on the contacts on the wrist watch for a few seconds. Your heart rate will then come up on the display.
Summary
The Sigma PC 3FT heart rate monitor is a simple one button operated unit which measures your heart rate whenever you demand it. The downside is that you do not get continuous monitoring, unlike those heart rate monitors with a chest strap. It can be a little inconvenient, as you have to take your heart rate periodically, and every time you do that means stopping your exercise activity momentarily.
The upside is that if you want to keep tabs on your heart rate throughout the day (as opposed to only during an exercise), you don't have to wear a chest strap transmitter all day. You can use the PC 3FT as an ordinary wrist watch.
Note: The PC 3 and the PC 4 are wireless heart rate monitors with chest strap and so can provide continuous heart rate monitoring. In other respects the PC 3 and PC 4 offer much the same functionality as the PC 3FT.
| | |
| --- | --- |
| | This takes you to Amazon for some of the best selections for this model. Certain selections come with FREE Super Saver Shipping. |
Useful Information
Reviews: This page has a concise summary of Sigma Sport heart rate monitor reviews.
Further information: Visit Sigma's official web site.

The next wireless heart rate monitor in the Topline series is the Sigma Sport PC 9.

Not sure which heart rate monitor is right for you? Take a look at the Which Heart Rate Monitor page.






---
Copyright 2007-2011 Heart-rate-monitor-watches.com
---