Home > Sigma Sport > Shape Watch
Sigma Sport Shape Watch
Heart Rate Monitor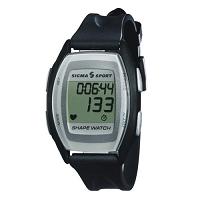 Sigma Sport Shape Watch is a basic heart rate monitor with a calorie counter.

The main features of the Shape Watch are:
Continuous heart rate monitoring
You can manually set your heart rate training zone.
You can activate an alarm to alert you when you are training above or below your heart rate zone limits
Stop watch
Calorie counter. The calories consumed is calculated using your gender, weight and the "sport's specific factor".
You can review your training duration, maximum heart rate reached, calories consumed while you are exercising.
Basic time keeping: Time and date, no daily alarm
Wireless heart rate monitor with an analogue chest strap transmitter and a wrist watch receiver
The "sport's specific factor" is a number which takes into account the type of sport when calculating calorie consumption. For example walking slowly has a factor of 36 whereas running hard has an index of 99. Clearly the former is going to consume considerably less calories than the latter. In the user manual there is a table which supplies the numbers for some common sports. You input this factor prior to your workout to ensure that the calories calculated by the monitor are accurate.
There is also a more comprehensive list of sport's specific factors that can be downloaded from the Sigma Sport web site.
Summary
The Sigma Sport Shape Watch is a basic heart rate monitor. Its calorie counter seems quite tedious to use, given that you have to input a number (the sport's specific factor) before you exercise. If you regularly do different types of sports (or do the same sport at different intensities), you will have to keep looking up the table to find out what number you should input. This makes it quite inconvenient as you probably won't have the table handy, making the calorie counter of limited use.
There are a number of heart rate monitors with a calorie counter from Sigma Sport that are easier to use: Onyx Balance/Onyx Classic, PC 9 etc. It would probably be better to take a look at those instead.
| | |
| --- | --- |
| | This takes you to Amazon for some of the best selections for this model. Certain selections come with FREE Super Saver Shipping. |
Useful Information
Reviews: This page has a concise summary of Sigma Sport heart rate monitor reviews.
Further information: Visit Sigma's official web site.

Not sure which heart rate monitor is right for you? Take a look at the Which Heart Rate Monitor page.






---
Copyright 2007-2011 Heart-rate-monitor-watches.com
---